PCSB Overseas: Kurt Haller in Vienna, Austria
Have you ever wondered what it's like to study abroad in a foreign country where you were completely unfamiliar with the culture? This week on PCSB Overseas, we invite Kurt Haller, a senior marketing and management major with a German minor, to talk about his time in Vienna during Fall Semester 2017.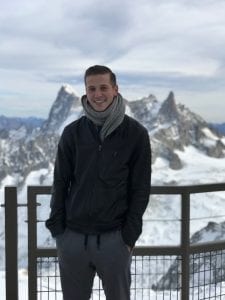 How did you choose your location for your study abroad experience?
During my fall semester of junior year I chose to study abroad in Vienna, Austria. Although I chose the location with the intention of cultivating my German minor and enhancing my bilingual skills, I specifically chose Austria because of my rich cultural heritage. Ever since I was young, I have possessed an overwhelming sense of admiration toward my grandfather. His relentless work ethic, emphasis on personal development, and appreciation for life are just a few reasons why he is the epitome of an inspiring role model.
Growing up in Nazi-occupied Linz, Austria, my grandfather was tasked at a young age with providing for his family while his father served in the war. While most kids in America had the privilege of playing catch with friends down the street, my grandfather and his siblings would trek long distances and endure long working hours on farms to make ends meet.
I am a firm believer that every individual should understand their family history, and if given the opportunity, experience the environment their relatives once resided in. Ultimately, my decision to study abroad in Austria went beyond studying in a new, unfamiliar, foreign country; it meant I was able to better understand my cultural heritage.
Did you take any business classes while you were abroad?
I took two management electives: International Business Toward a Global Market and Management Theory and Practice. These classes, facilitated through IES, encouraged students to critically think and view problems with an open mind. My professor for both classes, Wolfgang Mölzer, a former executive at a Vienna-based energy company, brought personal insight from his experience in business to the classroom. His comprehension through real-life application helped students better conceptualize the material from the textbook, resulting in active engagement and one-to-one conversations after class. In addition, Professor Mölzer coordinated a visit to OPEC to provide potential opportunities to any student interested in exploring career paths. I recommend Professor Mölzer to any individual who is considering studying in Vienna through the IES program.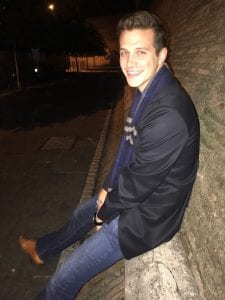 How did your study abroad experience impact you as a business student?
Any abroad experience allows one to grow emotionally, spiritually, professionally, and intellectually. The opportunity to study in Vienna allowed me to develop German fluency and communication skills. As many students, faculty, and professionals know, communication is an essential component of any organization. At first, when entering a foreign country, it is overwhelming because one is thrown into an unfamiliar environment. Nonetheless, surrounding yourself in a completely foreign environment is the best way to learn a new language and after a few weeks, you begin to feel a part of the local culture.
Secondly, visiting new places allows one to enhance one's understanding of the world and adopt a perspective of equifinality. Skills such as adapting to changing situations, navigating new environments, and understanding cultural norms blossomed during my time abroad. We live in a highly-competitive world and it takes one monumental innovation or a multitude of external factors to completely alter the way organizations do business. The ability to be adaptable is an ever-growing demand in many organizations and if I chose to go abroad with friends from PC, I do not think that trait would have developed.
Lastly and most importantly, studying abroad provided me with the opportunity to self-reflect and discover who I am and what I stand for. I asked myself questions such as:
What do I want out of my professional career?
How will I know if I have lived a meaningful life?
What are my personal values and how can that transfer to all facets of my life?
What will bring me happiness in my career?
Self-reflection is part of living a meaningful life. Peter Drucker said, "Successful careers are not planned. They develop when people are prepared for opportunities because they know their strengths, their method of work, and their values. Knowing where one belongs can transform an ordinary person — hardworking and competent but otherwise mediocre — into an outstanding performer." I couldn't be more thankful to have studied abroad in Austria during my time at Providence College.