Internship Spotlight: Nicole Shea '19
Our Internship Spotlight series showcases the exceptional students in the PCSB. We want to let their accomplishments shine! This series allows them to recount the most memorable aspects of their impressive internship experiences. At companies from L'Oreal to RXR Realty, our students transition from the classroom by taking what they've learned and applying it in the real world. Meet Nicole Shea, a senior who currently interning with the Boston Celtics as a Live Events/Game Operations Intern in Boston.
_______
What is your major/minor?
I am a senior marketing major with an Italian minor.
Does the company you interned with have a social media presence, specifically on Facebook, Twitter, LinkedIn, and Instagram? If so, what are the usernames and/or links to the pages?
You can follow the Celtics at "Boston Celtics" on Facebook and LinkedIn, and "@Celtics" on Twitter and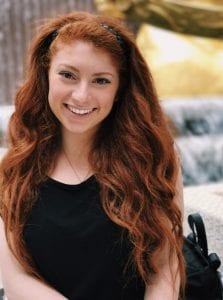 Instagram.
When/how did you secure your internship? Do you have any tips for students who are looking for an internship?
I applied in November when applications for the spring semester opened, was offered an interview in December, and secured the internship the day after my interview. I really just applied online. Luckily, I knew someone at the organization, and she gave me some people's emails, but when I reached out they all suggested applying online and that's what I did. I would advise students looking for an internship not to be discouraged or afraid to think big. Some students won't apply for internships with organizations with such notable names because they are afraid of getting rejected or feel they have to know someone there, but you never know until you try!
Did you learn anything that you found to be particularly useful? Were there any projects that you worked on that you found to be interesting?
Time management is important. Every game day I have to be in the office at least six hours before tip-off, and I have tasks that need to be completed every hour after that. Once the game starts I follow a script that tells me what I have to do whenever there is a timeout, quarter break, or at halftime. Taking control of time and getting on top of the things you have to do, as well as doing them efficiently, is so important.
What was the most challenging aspect of your experience?
I help coordinate and assist with half-time and in-game entertainment, giveaways during the game, and game operations. I, my supervisors, and the entertainment teams all follow a script, but because it is a live game, things can happen that we are not always prepared for. I found dealing with the spontaneity to be challenging and it was something I had to learn to deal with and adjust to.
Anything else you'd like to share about the experience?
I feel so lucky to work at such a great organization with even greater people. The days are long and the work is hard, but the people have made my time at the Celtics so enjoyable. This experience has already been so rewarding and I cannot wait for the rest of the season!
Now that you have successfully completed an internship, what is the one thing you wish you would have known when you were applying that nobody told you? In other words, if you could go back in time and give yourself one piece of advice, what would it be?
Show your bosses why they hired you over someone else. Show up early, be social and show your face, put 150% effort into everything, and always be available when they need you. This will set you apart and others will take notice. Also remember to soak in everything the opportunity has to offer! Work with a positive attitude and have some fun. By doing this, you will have a much more enjoyable experience.
_______
Interested in reading more about our amazing students? Click here for the rest of the PCSB's "Internship Spotlight" series.