I Want Your Job: Meredith Pramer '15
My name is Meredith Pramer '15. I majored in marketing with a minor in finance and I was a member of the women's swim team. After a few internships and involvement in clubs and activities, I found my way to management consulting and landed at Accenture. I spend the majority of my weeks traveling for my job, which gives me endless opportunities to grow in my position and network both inside and out of the company.
_______
What types of internships did you do?
My first internship was unpaid during my semester abroad in London. The first half of the semester
included accelerated classes and the second half was an internship. I was placed at a digital marketing company called Quintessentially Digital, where I was focused on content creation to optimize search engine rankings and on building social media campaigns for luxury brands.
I went to Hasbro for my second and third internships. The summer between my junior and senior years, I worked in the Corporate Communications department producing content for their intranet and planning employee engagement events. I wanted more exposure to brand management, so I decided to do another internship at Hasbro my second semester senior year with their Playskool Friends Team, even though I had just accepted my job with Accenture. I assisted with forecasting, packaging, production design, and designing the product line. All my internships were completely different, and I think that was the best.
What was the best thing you did as an undergrad that helped you to get to where you are today?
I learned three things that I consider essential to my career — time management, getting involved in lots of things, and the importance of networking. The women's swim team at PC was a huge commitment, but I learned time management. It forced me to understand when my best hours were to study and work, to timebox activities to fit everything in, and to prioritize what was important all between practice and class.
I was involved in a variety of clubs, groups, and interests. My freshman year was a time to explore, but as the years went on, I figured out what clubs were important to me and put my energy there. I loved being a part of PC Lifestyle & Fashion and led it my senior year. It was so fun to explore my love for fashion, host events, and be able to bring in alumni to speak about careers related to blogging and fashion.
Networking with alumni allowed me to figure out why I wanted to go into consulting. I participated in the Career Education Center's winter shadowing program and met alumni who encouraged me toward management consulting. I network pretty much every day in my job, consulting to find project opportunities, getting to know people within my practice, and understanding the opportunities within Accenture. It's not about what a person can do for you, such as give you a job or a project. It's about building relationships that may come to fruition.
How did you ultimately land your current role and how did you stand out in the interview process?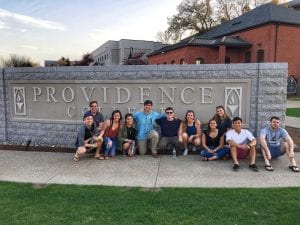 When I decided I wanted to pursue management consulting, Accenture was my first choice. My dad previously worked there and my brother still does. When I was accepted into the interview process, I was told there would be multiple case interviews to assess my ability to problem-solve. I had no idea what case interviews meant, but I soon found out. They pretty much give you any business issue and it's up to you to use the interviewer, acting as a specific persona, to think through the questions logically and provide an answer. There are great resources online to help you prepare and I made sure I was well versed going into my interviews.
I think I stood out when it came down to my thought process. I believe most candidates studied engineering or finance, but because of my marketing degree, I thought of the issues differently, in a more human-centric way.
Can you explain what a management consultant does and what a typical day looks like for you at Accenture?
Management Consulting can mean a lot of things, which I learned quickly. I gravitated toward the "people" side of consulting, which Accenture calls talent and organization. I've mostly worked within change management for financial services companies (banking, wealth management, insurance), which means I help clients go through large-scale changes that could be caused by organic changes, technology changes, or regulatory changes. I help clients structure what changes are hitting their people and when they happen, which ultimately informs them how to communicate, train, and engage. My role is to recommend (either directly or as part of a team) and execute the best solution for my clients by blending Accenture's latest thinking on topics related to agile organization, communications, training, and engagement tactics with the client's needs. Usually the change management team is part of a larger Accenture and client team, so we are able to work collaboratively to connect the dots across the project.
I don't have a typical day, to say the least. I travel to my clients from Monday to Thursday every week, which lets me be face-to-face with my Accenture team (since we are in different cities) and clients. Contractually, we have set deliverables due during each phase of a program. Usually the deliverables are the consistent from project to project, but fire drills always pop up due to pressures the client is feeling or what is going on in their organization. I meet with my team daily to understand priorities for the week, meeting with my clients to either socialize something we worked on or work collaboratively on content and creating materials (usually in PowerPoint) to give a narrative to the work we are doing. On top of client work, Accenture offers a ton of different learning opportunities and calls to make sure their people are up to date on the latest thinking, so I try to attend as many calls or in-person sessions as possible.
How has travel become a part of your professional career and what do you feel it adds to your experience at Accenture?  
I have been traveling for pretty much three years straight. I enjoy being able to get diverse experiences,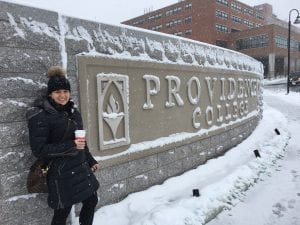 work with different people within Accenture, and experience different cities. During my three years I've worked on projects across retail banking, mortgage, payments, wealth management, and insurance industries. I don't think you can get that kind of exposure to different companies and types of work in other jobs. I've been fortunate to fund many vacations with my hotel and credit card points, as well as my airline miles!
Travel adds opportunity to my experience at Accenture. I bring my skills to clients who need it and meet and connect with other Accenture resources that I would probably never know, or only know virtually. When you open yourself up to opportunities, especially at a young age, you get exposure to so much more. There are Sundays that I don't want to wake up before 5 a.m. on Monday morning for my flight, but it is a way to separate work from home. I look forward to going home to my fiancé, Evan (who also went to PC!), every week and being able to focus on my work while I am traveling.
Knowing what you know now, what advice would you offer PCSB students interested in pursuing a career similar to yours?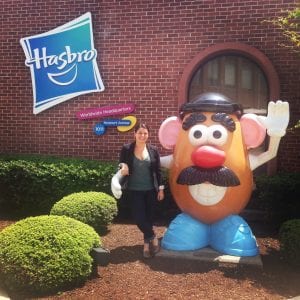 My advice to PCSB students is to keep an open mind as you look for jobs and start your new job. New graduates coming into their first job make a mistake if they think they are above certain tasks that are crucial for the success of the team or project. When I started as an analyst, I wrote meeting minutes and formatted slides. Now I realize those minutes are essential to create an audit trail for us to continuously reference, and that formatting slides in a way that tells the right story is essential to all client meetings. It is so important to have a good attitude and show that you are willing to learn. Managers know you aren't an expert when you are first starting out, but it is your job to continuously learn and make yourself irreplaceable to your team.
_______
Interested in reading more about our amazing alumni? Click here for the rest of the PCSB's "I Want Your Job" series.