I Want Your Job: Evan Paulson '14
My name is Evan Paulson '14, and I am a clinical systems analyst at New England Baptist Hospital in Boston, MA. I graduated with a degree in biology and a minor in business studies. Upon graduation, I learned how to adapt this degree for the IT field, where I use the skills I developed in the PCSB to lead a team, instruct others, and turn my passions into a career I am proud of and excited about.
_______
What types of internships did you do?
My major was biology pre-med, and since I had a lot of free electives, I wanted to put them to good use, so I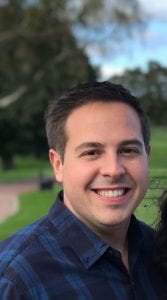 added the business studies minor. My biggest regret is not doing an internship. I volunteered at hospitals and emergency rooms and I did research, but never an internship. I was focused on physician assistant school after PC, so I felt an internship could wait, but I wish I held one, even in something I didn't see myself doing post-college. The experience would have helped me decide what I wanted to do in the future. There are millions of reasons to do an internship and, as I learned, really no excuse to skip on the opportunity. Take an unpaid internship if that's the only option. It doesn't matter what you're doing, just get experience and you'll be grateful, even if you hate it.
What was the best thing you did as an undergrad that helped you to get to where you are today?
The things that come to mind are presenting, socializing, or prioritizing, but the best thing I did was understand how I learn best. It sounds strange, but understanding how you learn new things and retain information is incredibly important. In the real world, you're not just pulling all-nighters to pass a test, you're responsible for knowing information and applying it every day. Being able to pick up new topics quickly will not only help you do your job, but also make you stand out to your superiors. This is a tool that wasn't specific to one class or one topic at PC, but it's something I can rely on every day.
How did you ultimately land your current role and how did you stand out in the interview process?
After graduation, I got a job working for a medical software company, Meditech. I was still a few credits short for graduate school and needed time to study. Meditech was looking for people with a background or degree in science for their laboratory software used in labs all over the U.S. and Canada. The interviewing process consisted of two interviews and a presentation. I think my presentation helped me to stand out. I took all the tips and criticisms I had gotten at PC and applied them to the presentation. I didn't use note cards, didn't read from the screen, didn't stutter or say "uh" or "um." I was direct, informative, and factually correct. After about 20 months at Meditech, I applied for a job at New England Baptist. With my limited experience, it was an uphill battle, but I was honest and informed in the interviews. I think this helped me stand out. I was also willing to learn and do pretty much anything they asked. I was truly shocked when I received the offer, but I happily accepted.
Can you explain what a clinical systems analyst does and what a typical day looks like for you at the hospital?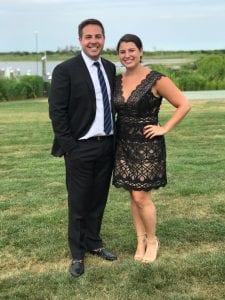 Part of why I like this job is that it changes day to day. A typical day for me is optimizing the software, training end users (doctors, nurses, etc.), and troubleshooting any issues with the software. I'm currently the lead analyst for support, service, and training of the clinical applications at the hospital. Some of what I do involves delegating tasks to other team members based on the priority. If the system is down and I need to drop everything, I can ask a team member to train an end user or follow up on a project request.
As a clinical analyst I'm responsible for all the clinical applications, which includes any implementations of new clinical applications or software. We just finished up an 11-month implementation project of a new application. I was responsible for learning how the application works, how it is set up in the back end, and how to teach my teammates. I was on a work group consisting of doctors, nurses, and some leadership members to make decisions about the setup, implementation, and Go Live of the application. The last month of the implementation I led the training efforts, doing one-on-one training and some classroom sessions. When all was said and done, I trained roughly 100 end users (~75%). The Go Live event involved all seven other clinical analysts. This is my favorite part because you're out on the floor working side by side with the end users. It gets me away from my computer and allows me to interact with different people. It also gives me some satisfaction to see all my work from start to finish. Now that the application has been live for about two months we are working on gathering information to begin optimizing it. The goal is to make it a better fit for the workflow of our end users. This is an example of what my days have been like recently, but we also work on short-term projects that follow the same pattern. Then on the flip side, I work from home most Fridays, which is a great perk of IT. About 85-95% of my job could be done remotely, which gives me a lot of flexibility.
What challenges did you face in landing your current role and how did you use them to grow as a professional?
My biggest challenge was my experience. The position "required" five years of experience and I didn't even have two years. I applied anyway because I liked the role description and the reputation of the hospital. I had made the decision to leave Meditech and felt that my plan to attend graduate school wasn't as important to me. I liked what I was doing so much and I wanted to see where the career could take me. During the interview process I stressed how I would love to have the opportunity to learn about all the different software and applications. I kept saying how eager I was to learn about everything in the hospital. I had experience with the laboratory software they were using and I was replacing someone who worked on that specific software. I'm still not really sure how I got the job. I honestly thought there was no shot, but I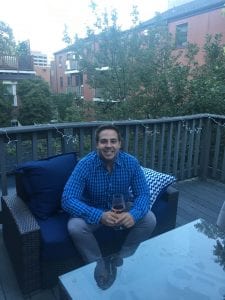 was lucky enough to get an offer and accept. Since then, I have made it a goal to work on the skills and knowledge I have while learning other applications as well. Getting in a habit of trying to learn and apply my knowledge made me stand out. After two years I was promoted to team lead and given some more responsibilities. I think being in a position you may not be qualified for is the best way to gain experience in a short amount of time. It's a little unsettling, but it can be incredibly beneficial to building a career.
Knowing what you know now, what advice would you offer PCSB students interested in pursuing a career similar to yours?
The IT industry is very accessible now. All large companies have their own IT departments doing everything from support and training to cyber security. No matter what industry interests you, you can find a job related to IT. My background and interests have always been health science. While a lot of my job doesn't directly involve the health sciences, some topics do. A restaurant manager who loves to cook might be in an office doing paperwork, but it's related to an interest. Do you like fashion? Every major department store now has a cell phone app and I'm sure they have huge IT departments. Being open-minded is helpful. Our generation has been lucky enough to have technology around us all the time and those skills translate well in the IT field.
_______
Interested in reading more about our amazing alumni? Click here for the rest of the PCSB's "I Want Your Job" series.