Internship Spotlight: Maria Santos '20
Our Internship Spotlight series showcases the exceptional students in the PCSB. We want to let their accomplishments shine! This series allows them to recount the most memorable aspects of their impressive internship experiences. At companies from L'Oreal to RXR Realty, our students transition from the classroom by taking what they've learned and applying it in the real world. Meet Maria Santos, a junior who interned with Giorgio Armani Corp. in New York City!
_______
What is your major/minor?
I am a business management and global studies double major.
 Does the company have a social media presence, specifically on Facebook, Twitter, LinkedIn, and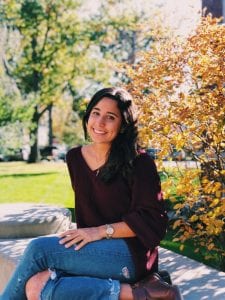 Instagram?
Yes, Giorgio Armani Corp. has a presence on Facebook, Twitter, and LinkedIn.
 When/how did you secure your internship? Do you have any tips for students who are looking for an internship?
I secured my internship through continuous networking and emailing with Armani's corporate employees
and HR recruiters until they finally hired me for an internship in mid-May 2018. I definitely encourage students who are looking for an internship to network and always be in touch with people from the companies they want to work for; just knowing company employees can get you a long way in the recruitment process. Also, it is important to do research on the firm so you can display just how passionate you are about what you'll be doing. Recruiters love people who show a lot of interest in their companies, and who know and are eager to learn more about their potential positions. Lastly, be yourself and be humble during the process.
Did you learn anything that you found to be particularly useful? Were there any projects that you worked on that you found to be interesting?
I was a corporate/retail human resources intern. HR deals with everything from recruitment and hiring, to evaluating internal problems among employees and lawsuits, to payroll and benefits. I was lucky enough to spend time with each department, but the most useful was the Recruitment Team. While learning how the recruitment process worked, I learned what stands out to recruiters in a résumé or a LinkedIn profile, including what they like and what they dislike in résumés and interviews.
I also worked with the retail HR team on the process of opening a new store in Dallas. This was the most interesting part of my internship because I got to see from beginning to end how you find the perfect employees for the stores, even if you are miles away; and how every single piece of the strategic plan comes together in the end. Also, I witnessed firsthand the importance of teamwork; every single department in the corporate office, from visual merchandising to logistics to HR, worked together for a successful store opening.
What was the most challenging aspect of your job?
The most challenging part was not having concrete deadlines for my tasks. As a college student, you are used to having syllabi that outline deadlines for assignments. There were times when I was given five tasks at once and I had to get organized to complete the jobs in a timely and efficient manner. The order in which I decided to complete my duties turned out to be incredibly important. Having that kind of freedom was definitely the most challenging, yet most rewarding, aspect of my job.
Anything else you'd like to share about the experience?
"The Power of We" was definitely something I witnessed at Giorgio Armani Corp. It was amazing to see one of the main concepts that the PCSB stands for applied in the corporate world. Every individual department in Armani worked collectively for the success of the whole company. They held one another accountable and they depended on one another to do their jobs.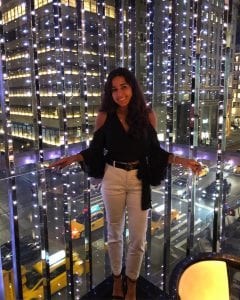 For Giorgio Armani Corp., teamwork is important, because the main headquarters is in Milan and all stores have to run everything through executives in Europe. Being a retail company and having stores throughout the Americas means the offices must be in constant communication so there is consistency.
Now that you have successfully completed an internship, what do you wish you had known when you were applying? In other words, if you could go back in time and give yourself one piece of advice, what would it be?
I constantly struggled to walk people through my résumé because I was unaware of how all my experiences together portrayed me as a person. I wish I had known how every experience shaped me and led me to apply to Giorgio Armani's HR department. Every single thing I did, from being a student worker or a camp counselor to being part of Friars For Puerto Rico in school, gave me the skills I needed to succeed and sparked my interest in HR. At the time I didn't notice it, but looking back, I see that my résumé is a sequence of events that tells a story to a recruiter.
_______
Interested in reading more about our exceptional students? Check out the rest of the series here.