I Want Your Job: Accounting Cohort '17 '18G Turned Deloitte Audit Associates
Our names are Abby Shelley, Catherine Crotty, Nick Flannery, and Julia Alagero. We finished our undergrad at Providence College in 2017 and then went on to join the PCSB Accounting Cohort after graduation. The Accounting Cohort is a section of the 4+1 MBA program at PC and is geared towards accounting students who are pursuing a CPA certification. After graduation from the MBA program, three of us went on to become Audit Associates at Deloitte in Boston, MA (Abby, Julia, and Nick), and Catherine is currently an Audit Associate at Deloitte in New York City, NY. We credit our time in the Accounting Cohort with getting us to our current positions, and we cannot speak highly enough of our time at the College. Deloitte, and specifically Deloitte University (the company's training facility), has been extremely helpful with getting us acclimated to our jobs – where we are so lucky to collaborate with each other and have one another as a support system.
_______
These answers are partially written by us as a group, and some are our individual responses.
_______
1) When did the four of you graduate (undergraduate and graduate)?  What were all of your majors?
We completed our undergrad in May 2017 with degrees in accountancy, and we finished our graduate degrees in May 2018 as part of the MBA Accounting Cohort.
2) Can you describe how you came to join the MBA program at Providence College?
To sit for the CPA exam, you need 150 hours of qualified college credits, and while it is possible to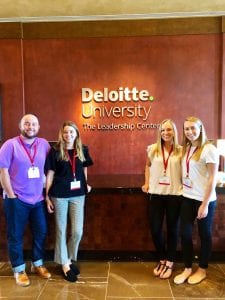 achieve this in four years, it is difficult to do so. The PC MBA program offered a great opportunity to earn the extra credits we needed, allowed us time to study and pass the CPA exam, and let us earn a very useful business degree, all at once. The PC MBA program offers the Accounting Cohort specifically tailored to accounting students on a CPA track, so the program was a great investment for us and helped prepare us for full-time work. We loved having professors from undergrad while also meeting new ones. The familiarity made the transition from undergrad to grad super easy.
3) What was the best thing you did as an undergraduate student to help you get to where you are today?
Abby Shelley:The best thing I did was to make decisions about my major and my job plans early on. I came in undecided, but when I felt accounting click for me as a first-year student, I declared the major very soon after. By planning early, I was able to schedule my classes in the order I wanted and never felt rushed to fit classes in. I even found time to study abroad, which can be difficult for accounting students due to the highly regimented course schedule and number of required classes. Planning early can be difficult for those who are unsure of what they want to do — my advice is to be as confident and decisive as you can, as early as you can. Most people will never be 100 percent sure of what they want to do, but taking concrete steps toward anything is a step in the right direction.
Catherine Crotty: As an undergrad, I always set mini milestones for myself.  Even when were simple, they helped keep me in check and gave me a sense of satisfaction and achievement when I accomplished them.  Things can get really tough and hectic so it's important to keep yourself in balance.
Nick Flannery: The best thing I did was build strong relationships with my professors. I don't think I would be where I am without their advice and guidance about everything from interviews to job offers. In addition, I thought it was important to utilize the Center for Career Education and Professional Development for everything from résumé reviews and mock interviews, to real interviews. There are so many resources available for you to network and build relationships.
4) How did you ultimately land your current jobs in Boston and New York, and how did you stand out in the interview process?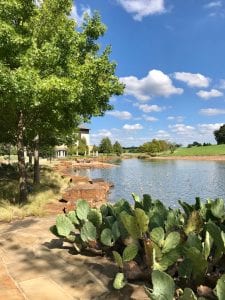 Abby Shelley: I participated in the Deloitte leadership Program in Jericho, Long Island, during the summer before my senior year, which landed me an internship offer for the following summer. I interned in Jericho the summer after graduation, before I returned to PC for the MBA program. The Jericho office is a special place with amazing people, and I feel lucky to have spent my summer in that office. However, for a multitude of personal reasons I knew that Boston would be a better place to start my career. At the end of my summer internship I reached out to Deloitte recruiters to discuss an office transfer, and they were extremely helpful in moving me and kept my best interests at heart.
To stand out in the interview process, you have to go beyond just knowing your résumé and answers to case study questions. It is most important to be comfortable, conversational and confident — even if you don't genuinely feel that way in the moment. Your interviewer wants to hire someone who is friendly, easy to talk to, and who will fit right in with the workplace culture. If you are offered an interview, the company knows you're smart enough to do the job — they just want to see how well you'll fit in. And don't forget to send thank you notes or emails after the interview, because it can make all the difference.
Nick Flannery: My junior year I applied and interviewed for the Deloitte Envision Leadership Conference. It is a multi-day conference that takes place in the summer at the Deloitte office in Boston, where attendees are able to learn more about the culture and career opportunities available at Deloitte. Throughout the conference, I participated in fun team-building activities and met many current Deloitte employees. After that, I was offered an internship position for the following summer in the Boston office. Following my internship, I was offered a full-time position at Deloitte in Boston, which I started on Sept. 24.
During the interview, I spoke a lot about the work experiences I had in the past and different organizations I was a part of during my time at Providence College, including the Board of Programmers. Being able to draw on those real-life experiences of working in teams or handling difficult situations was important preparation for the interview process.
Julia Alagero: I try to think of the interview as a conversation. It is important to come prepared with a few set talking points about yourself, and with questions for the interviewer, but I always felt my interviews went best when I was able to connect with my interviewers on a personal level — whether it be about PC, sports, or anything else that helped them to get to know more about me.
5) Can you explain what an Audit Associate does? What does a typical day look like for you at Deloitte?
Cat Crotty: As an audit associate, it is my job to prepare and review work papers that will assist in the quarterly and year end audits.  The work papers help to ensure that the clients' financials are correctly calculated and fairly represented.  They are also used for auditing internal controls.
Abby Shelley: Audit associates are the staff-level assistants on audit engagement teams. We primarily support the engagement senior associates and managers with the day-to-day process of completing an audit. A typical day involves regularly checking in with engagement team seniors, assisting them with tasks throughout the day, completing and testing and documentation for lower-risk areas of the audit, and building relationships with other associates and seniors. The first year as an audit associate is mostly learning the ins and outs of the audit process and providing support to the higher members of the team as needed.
Julia Alagero: As an audit assistant at Deloitte in the Retail and Distribution Industry, most of the work I do consists of preparing audit documentation and performing tests of the financial information of the company we are auditing. As I am still so new to the profession and audit engagement, I have found it important to try to learn as much as I can and be a help to my team members in any way that is needed.
6) Can you share a little bit about Deloitte University? What is it, and where is it located? What is the purpose of DU?
Deloitte University is Deloitte's leadership and conference center in Westlake, Texas (about 30 minutes outside Dallas), and it is essentially a corporate college campus. DU hosts regular staff trainings with Deloitte employees from all over the country. Each time someone is promoted, they go to DU for training for a number of days. The campus (which also doubles as a hotel) is beautiful and offers so many amenities. Everyone loves going to DU — you get to reconnect with everyone you meet from different offices around the country! It's a great place to see those you haven't seen in a while, as well as make new connections with people from staff level to partner. You can go to the gym, take a bike ride on the trail, get a free Starbucks, or just enjoy the food. Everything is amazing and DU makes it feel like the firm appreciates you.
7) If you were a balance sheet account, what would you be?
Abby Shelley: I would be treasury stock — treasury stock is stock that a company repurchases from its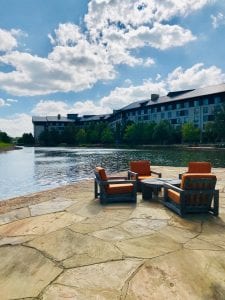 shareholders. I always try to be the best I can be so the people I work with will want me back.
Nick Flannery: I would probably be cash because who doesn't love cash?
 Cat Crotty: Cash!
Julia Alagero: Preferred Stock.
8) Do you have other advice you want to share with our current students?
Julia Alagero: My best advice for undergraduate students is to network. I'm sure that's what everyone says, but your time at PC provides you with so many opportunities to learn as much as you can about different jobs and industries so you can figure out what you want to do once you graduate.
Nick Flannery: I know it might sound a little weird, but advice I have heard a lot upon starting my career at Deloitte is to be a sponge and absorb all of the information, experiences, and different things being thrown at me. I think this applies to college as well, because students are going to have so many experiences inside and outside the classroom that will be valuable going forward.
Cat Crotty: Don't be afraid to try something out of your comfort zone because you'll never know where you'll end up!
Abby Shelley: Utilize the resources you have here on campus. I know this is something you hear all the time, but I can't reinforce it enough. The connections you make at PC and in the Career Center will set you off on the right foot and will have lasting impacts on your career. Everyone here at PC wants to help you, so make sure you are taking advantage of it. None of us would be where we are today without people at PC who had confidence in us. Never be afraid to reach out to alumni, either, especially recent grads—we were very recently in your shoes and we can be great resources!
_______
Interested in reading more about our amazing alumni? Click here for the rest of the PCSB's "I Want Your Job" series.