I Want Your Job: Alexandra Lawrence '17
My name is Alexandra Lawrence and I graduated from Providence College in 2017. I'm the senior social strategist at Smith + Saint, a digital consulting agency based in Boston. Before this role, I lived in Manhattan where I worked in the luxury fashion industry at Hermès of Paris and Stuart Weitzman. I left my fashion career path in NYC to move back to Boston because of my PC roots—I consider Boston a mini Friartown and I missed my Friars the most!
_______
What was your major at PC and what type of internships did you do?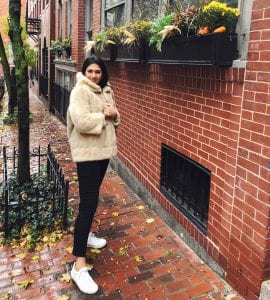 I was a marketing major with a minor in Italian. My first internship was during my senior year at a made-to-order clothing line company called Alice Walk. I discovered the company on Instagram and fell in love with the look and business idea. I ended up cold emailing the founder and basically said, "I love what you're doing, can I be involved and intern for you? I know how to do X, Y and Z." And she answered! I interviewed and a week later was the company's first marketing +  social media intern. This was my first real "internship" gig, but before that I had always worked in retail at a fashion designer's seasonal store in Watch Hill RI., Elizabeth McKay. I started as a shop girl and ended up managing the store my last year there. It's all about the hustle!
What is the best thing you did as an undergraduate student that helped you to get to where you are?
I talked to anyone and everyone! Start reaching out to alumni or anyone within the industry you want to go into. If someone's job title is intriguing to you, reach out and ask to chat with them about it. I really started to hone in on what job titles I liked and what area in the fashion industry I wanted to go into. Even though this was only two years ago, jobs like "social strategist" and "social media manager" were just starting to appear. I was extremely interested in what those titles meant and learning how to get there.
How did you ultimately land your current job and how did you stand out in the interview process?
Through Instagram and Friars — my two loves! After I knew I wanted to leave NYC, I started looking at my options in Boston. I knew what I wanted/needed in a job so I was picky as to what I would jump to. (Side note: DO be picky about what you want in a job, don't just take a job to take one, if you don't like what you are doing!) I had been following the CEO and COO of Smith + Saint (Britt St. George and Madison Lees, Madison a fellow Friar!) on Instagram and remembered they posted about starting this company. I reached out to say I'd be in town and asked if they would want to meet—it was kind of like a blind date that went extremely well! We meshed as a team right then and there, and they happened to be looking to hire someone within my exact scope of work.
As for interviews, think of it just as a conversation. I truly believe PC prepares us to speak eloquently and how to sell ourselves as a great candidates. I'd rehearse questions and think strategically how to answer them before the interview so I knew what points were important that I wanted the interviewer to know about me.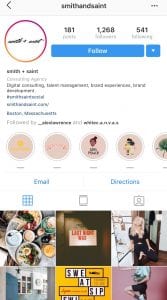 Can you tell us what a senior social strategist does and what a typical day looks like for you at Smith + Saint?
Essentially, I am in charge of curating and planning all social media channels for our clients. So, that includes everything from sourcing content, creating content, writing copy for captions, strategically planning the content grid around a client's KPIs, creating Instagram stories, and more. It's true, I am paid to Instagram, but a professional social media type role is very much driven by statistics and numbers—which I used to run away from! Digital type roles are fast-paced; we work on dozens of different projects and partnerships at the same time, which makes it fun and every week is different.
What advice do you have for students who are looking to develop their own personal brand? How did you come up with the idea to start your blog "être inspiré?"
I started my blog in 2014 during my freshman year in Ray 315 and my mom was 100% my first reader. If you can believe it, this was just when Instagram started taking off and the word "content" hadn't been overused yet. I always loved visual things, from magazines to store merchandising. It fascinated me how the that way something is marketed can evoke a buyers' emotions. For me, creating my blog was a space where I could experiment with creating a digital experience that made a reader happy to look at and spend time on. Now, my blog sees thousands of hits a month and my personal Instagram has grown and I've built out an amazing network of other creatives through these outlets.
I'd say start playing around with outlets of creativity that make sense for you. If you have a talent in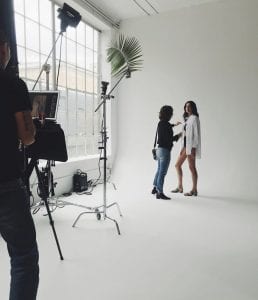 photography then maybe build a website around highlighting your work. It will become a digital portfolio and an asset to your personal brand. In every interview I have had, my blog has been a topic of conversation!
Knowing what you know now, what advice would you offer PCSB students who are interested in pursuing a career similar to yours? 
Reach out to anyone whose career interests you and ask questions. When you're an undergrad, it's the best time in undergrad to learn and gather as much information as you can about different job roles and industries. Find what you like to do and start to build your credibility in that area through research, and trying it out for yourself. Especially within creative roles, the one thing that sets you apart is YOU and the creative talents that you can bring to a team.
_______
Interested in reading more about our amazing alumni? Click here for the rest of the PCSB's "I Want Your Job" series.