Internship Spotlight: Nicholas Iadeluca '18 '19G
Our Internship Spotlight series showcases the exceptional students in the PCSB. We want to let their accomplishments shine! This series allows them to recount the most memorable aspects of their impressive internship experiences. At companies from L'Oreal to RXR Realty, our students transition from the classroom by taking what they've learned and applying it in the real world. Meet Nicholas Iadeluca, a student in the 4+1 MBA program who interned with Saletin Real Estate Group.
_______
What is your major/minor?
During my four years as an undergraduate student, I studied finance and marketing. Now, I am a 4+1 student in the MBA program with a concentration in finance.
Does the company you interned with have a social media presence, specifically on Facebook, Twitter, LinkedIn, and Instagram? If so, what are the usernames and/or links to their pages? 
Yes, Saletin Real Estate Group uses LinkedIn to share new corporate real estate developments and investing opportunities. It also uses other media platforms such as CoStar and LoopNet to showcase their office spaces.
When/how did you secure your internship? Do you have any tips for students who are looking for an internship?
I secured my internship at Saletin Real Estate Group through constant research and networking. I looked online every day for positions that peaked my interest. Eventually, I came across Saletin Real Estate, and after reading the job description, I felt that it was something I would enjoy doing. Looking back at my experience, I suggest that students apply to internship positions that they feel passionate about. After reading the job description, you should feel excited about the job. This excitement will help in completing your day-to-day tasks. Also, prior to the interview, I would recommend conducting research on the company. I would always read a company's mission statement and understand its business plan. Being coachable and wanting to constantly learn helped me to stand out.
Did you learn anything that you found to be particularly useful? Were there any projects that you worked on that you found to be interesting?
While I was interning, Saletin Real Estate Group took part in an acquisition. It needed to raise capital through their investors. I helped create their Investment Memorandum, and the first mortgage presentation. It was an extremely rewarding experience that helped me gain an in-depth knowledge of what goes into a corporate real estate memorandum. I also learned a lot about forecasting future cash flows for the current and potential tenants that occupied the buildings. A lot of risk that can be mitigated if the proper analysis is done.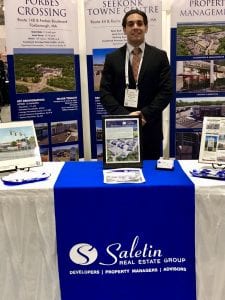 What was the most challenging aspect of your job?
The most challenging aspect of my job was being able to work on multiple projects at once under tight deadlines. Deadlines can change quickly, and I would have to pick which projects I needed to prioritize. Time management is a skill that is always stressed in school, and I found that it can be particularly useful when faced with a challenge in the workplace. I take great pride in the work I produce, and with that being said, I made sure to work efficiently and effectively to meet deadlines and to deliver my best work this summer.
Anything else you'd like to share about the experience?
I want PCSB students to remember to continuously learn and be coachable. While I was working at Saletin Real Estate Group, the vice president shared his experience and expertise with me. I even worked with him one-on-one on certain projects. This created a great learning environment where ideas could be shared, and I could ask questions that helped me to gain key insights in the industry.
Now that you have successfully completed an internship, what is the one thing you wish you would have known when you were applying that nobody told you? In other words, if you could go back in time and give yourself one piece of advice, what would it be?
Always have confidence in the work that you do and the answers you give. Employers and clients will be able to tell if someone isn't confident in their job. Always answer questions with thoughtful and meaningful answers. Come to work excited and full of passion — it goes a long way in the workplace and can even boost the morale of the team!
_______
Interested in reading more about our exceptional students? Check out the rest of the series here!