Bisnow Dives into the Ryan Center: Architecture That Evokes the Power of We
Earlier this month, the commercial real estate media group Bisnow and architectural firm SMMA came together to publish a piece about Providence College's new home for its business school, the Arthur F. and Patricia Ryan Center for Business Studies. The building unites the east and west campuses and has become a destination for students of all majors when studying, grabbing a coffee, meeting up with friends, or going to class. It has become "the centerpiece of campus," according to Bisnow.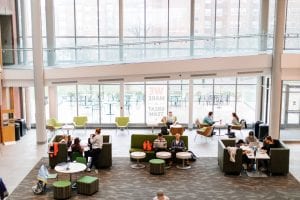 After a design competition in which architectural firms submitted their ideas for the building, SMMA and principal John Scott were chosen to bring the College's vision to life.
Scott's ideas for the center called upon the concepts of crossroads and intersections and revolved heavily around wanting to unify new and old spaces. The back half of the Ryan Center is the old Dore Hall – a dorm building on campus that has not been in use in recent years. SMMA repurposed the building within a larger structure that now houses offices, classrooms, study spaces, a café, a finance lab, multiple computer labs, and large open spaces for students to gather. The firm wanted to bring "new life" to Dore Hall, according to Scott. And they did exactly that.
"The contemporary gothic arch and color-changing flame at the front entrance of the center not only evoke the college's logo, but also its architectural history," Travis Gonzalez writes in Bisnow. At the same time, constructing a space that supported a wider range of learning styles and a shift toward project-based teaching was also vital.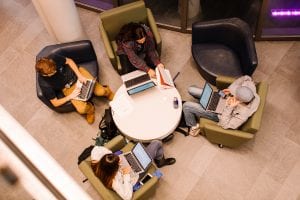 When asked for her thoughts on the Ryan Center, Dean Sylvia Maxfield said, "I like that the building is both impressive and imposing to visitors and comfortable and welcoming to those traversing across campus." Designed with collaboration and community in mind, the center represents an antidote to a world defined by declining personal interactions and increasing use of technology.
A drop-down screen in the main atrium allows people to gather to watch big sporting events, and there's ample space for groups on campus to hold large conferences. Companies can hold "impromptu career fairs," and organizations can use the space as a meeting point or a home base.
One of the most surprising things about the Ryan Center, says Scott, is the way that students have made it their own. Business students, as well as those students outside the business school, can often be found rearranging furniture to meet their needs. Though Scott suspected the atrium would be noisy, students actually use the space to study between classes. "Learning," says Bisnow,"inevitably spills out to the atrium."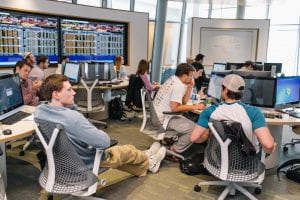 The Arthur F. and Patricia Ryan Center for Business Studies has brought a welcome change to campus. It facilitates modern learning styles and encourages students to collaborate and grow as peers and professionals. The building has become a space where students, faculty, alumni, and staff can come together and really embrace the motto of the PCSB: Educating for a future based on "we."