PCSB Ranked inside Top 200 Business Programs in the Nation in U.S. News
At the start of 2018-2019 academic year, U.S. News released their annual college rankings. The site ranks colleges and universities based on region, value, graduate programs, and the prestige of various schools within the specific college, among other things. U.S. News also includes facts about universities that people might not otherwise know; for instance, did you know Providence College shares its motto of "Veritas" with Harvard University?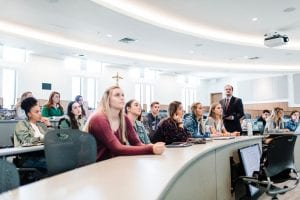 This year, the College had the honor of being ranked #2 in Regional Universities North, coming in only behind Fairfield University. PC was also named #20 in Best Value Schools and tied for #4 in Best Undergraduate Teaching with Fairfield and Bentley University. Additionally, the Providence College School of Business (PCSB) has spent the past few years trying, and succeeding, to grow its presence both on campus and around the country. Sylvia Maxfield, dean of the PCSB, has seamlessly integrated a new business building onto the campus and has worked with her staff to make "PCSB" into even more of a recognized and praised name. This has resulted in the PCSB being ranked inside the top 200 Business Programs in the entire country.
The site uses performance indicators across a wide variety of "accepted indicators of excellence." These indicators include graduation and retention rates, faculty resources, student excellence, financial resources, and alumni giving. Regional University lists largely exclude schools that have doctoral programs and those that award more than 50 percent of their degrees to students majoring in the liberal arts. The data U.S. News uses comes directly from the schools themselves, and the site gathers missing data from the U.S. Department of Education's National Center for Education Statistics to ensure accuracy and credibility.
Congratulations to our students, faculty, alumni, and administration for all of their hard work that led to PC being ranked so highly among its peers!