Dean Sylvia Maxfield in Providence Business News
Sylvia Maxfield, dean of the Providence College School of Business, was interviewed recently by Providence Business News in order to discuss the introduction of a new business and innovation minor, which is to replace the current Business Studies Certificate program. The purpose of the new minor is so that liberal arts and science majors have the ability to participate in business studies outside of the business curriculum. Because of this, the minor is not open to business majors.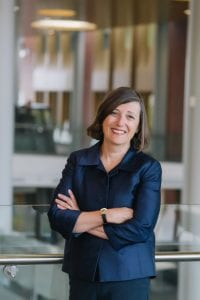 Maxfield tells interviewer Emily Gowdey-Backus that the minor consists of three core foundation classes and a capstone in the form of an individual project. Additionally, students are required to take three electives that are "aligned with the student's track. There are four tracks – organizational dynamics and context, science, art and design, and global affairs."
Last summer, Maxfield met with department chairs outside of the business school in order to gather their support and illicit their opinions on the program. The minor's program director is Eric Sung, associate professor of photography. This hiring choice furthers Maxfield's vision of the program being deeply connected to areas of study outside of business.
The minor coincides with "employer demand for employees with a proven ability to approach challenges with a problem-solving knowledge founded in creativity, interdisciplinarity and resilience," according to Maxfield. The College is passionate about integrating the rising success of its business school with its identity as a liberal arts institution, and the business and innovation minor helps to further this goal.
In the same issue of the Providence Business News, the College's business school was ranked number 12 on a list of top MBA programs, behind University of Massachusetts Dartmouth at no. 10 and University of Rhode Island at no. 11. This is largely in part to Dean Maxfield's tireless work, and her mission to make the PCSB a leading institution in the world of business education.
Click here to read the full interview!