Internship Spotlight: Sarah Butler '19
Our Internship Spotlight series is intended to serve as a platform to showcase the exceptional students boasted by the PCSB. We want to let their accomplishments shine, and this series provides the perfect place for them to recount some of the most memorable aspects of their impressive internship experiences. From companies like L'Oreal to RXR Realty, the students of the PCSB transition from classroom to real world by taking what they've learned and applying it in the real world. Meet Sarah Butler, a senior who interned with OXO!
______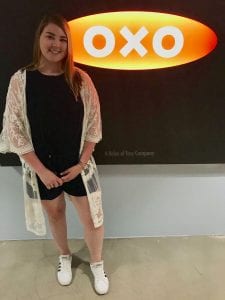 What is your major/minor at PC?
My major is Marketing.
2. Does OXO have a social media presence, specifically on Facebook, Twitter, LinkedIn, and Instagram? If so, what are their usernames and/or links to their pages? 
 Yes! I personally worked with their social media platforms. Here are their main pages:  Facebook, Instagram, and Twitter.
3. When/how did you secure your internship? Do you have any tips for students who are looking for an internship?
 I applied to many internships from October to December. I did not hear back from any until early February through March. I received an interview in March for OXO and secured the internship within the next week! My tip for standing out, especially as a Marketing major, is to make sure your resume is clean, well-written, and free of error. In September, I utilized the PC business school's career center and met up with Tess Povar to review my resume. She was very helpful and after a couple weeks of meeting and tweaking, my resume had immensely improved. I also met with my advisor, Mark DeFanti, to talk through my future goals and to get some advice on how to sell myself better to potential employers. I would recommend using all the tools that PC provides to help improve your application. Also, finding an internship that fits your needs is not always the easiest. It is important to stay patient and to keep persisting even if you get an email saying you have not been selected. Keep trying!
 4. Did you learn anything that you found to be particularly useful? Were there any projects that you worked on that you found to be interesting?
 At OXO, I worked with both the sales and marketing teams. In sales, I learned the entire backbone of how a product is made, the materials needed to make it, how the warehouse stores and ships the product all over the world. Working in sales proved to me how much marketing and sales go hand-in-hand and the impact they have on each other. Some of my favorite parts of my internship were going to buyer's meetings with big partner companies like Bed Bath and Beyond and Food Network. Some of my favorite projects included creating an entire week of social content for all their social media platforms. I loved working with their social media, especially Facebook Live, since I got to meet some famous chefs and saw what was really behind the curtain of such a big social media presence! I also got to work with the production and performance of home shows and got to help design a modular system for OXO's booth for shows all over the world. Another one of my favorite projects was working on window advertisements for Bed Bath and Beyond. I got to go to marketing meetings, review potential advertisement designs, go to the stores to view the windows (Soho and Manhattan stores) and received personal feedback from store managers about how the products were selling. My last favorite project was creating a new product bundle for OXO! I worked alongside with the other sales intern to pinpoint items that would work well in a "Back to College" bundle for college students. We looked inside the target market, carefully chose products we thought would sell, and presented our ideas to the entire company! It was my first ever sales pitch and it was one of the scariest, yet most thrilling, experiences of my entire internship.
5. What was the most challenging aspect of your job?
 The most challenging aspect of my internship had to be working in New York City. I was dropped off in the middle of the city and everything was completely foreign. It took me a week or two to get accustomed to what was around me, how to conquer the infamous NYC subway, and to get over the sensory overload. I proved to myself how independent and responsible I have become after fending for myself the entire summer. Now, I feel as if I have grown from this challenge and I cannot wait to go back!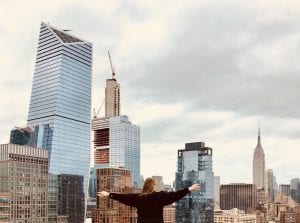 6. Anything else you'd like to share about the experience?
 As a student, it was very intimidating to apply to internships in NYC. It can be confusing, scary, and completely foreign to many of you. What I have learned from this experience is to step OUT of your comfort zone. I feel as if you can grow the most from the things that challenge you the most. I was extremely excited yet scared to move to NYC but I knew that this was a once-in-a-lifetime opportunity. I have learned so much, gained so many connections, and have received hands-on experience that will forever help me build my skill set. Take a chance!
7. If you could go back in time and give yourself one piece of advice, what would it be?
One thing that I wish I knew is that you can apply to internships that do not exactly coordinate with your degree. I am a Marketing major and I love marketing but I felt the need to explore a more creative niche in the industry. I discovered my interest with graphic design during my first internship after creating advertisements for my volunteer program. I feel like many students often feel pressure that they have to fulfill an internship that exactly aligns with their degree. What I have learned is that internships are a time for learning and experimenting! Through my past two internships, I have been able to narrow down my career interests to what I have enjoyed the most. If you are interested in something other than your business degree, internships are a time to figure out what you like and do not like. Essentially, being a certain major does not mean you cannot explore other areas of other industries during your internships. Be open to all opportunities that come your way because they can only help you grow your knowledge and expand your
connections and maybe you'll even discover your hidden interests!
______
Interested in reading about more of our exceptional students? Check out the rest of the series here!