PCSB in the News: Part-Time MBA Program Ranked Among Best Business Schools of 2019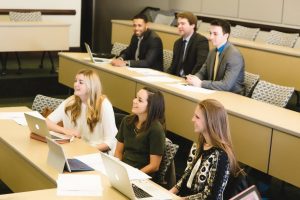 On Tuesday, March 20, the U.S. News & World Report released its annual Best Graduate School Rankings. PC's part-time MBA program was ranked number 118 of the best part-time programs in the nation, which is up from number 166 in last year's rankings. The rankings are based on "expert opinions of "program excellence" as well as statistical indicators measuring the quality of school's faculty, research and students."
The U.S. News & World Report uses a specific methodology to come up with business school rankings each year. According to the U.S News & World Report, five factors are taken into consideration for each ranking. These include average peer assessment score, average GMAT and GRE scores, average undergraduate GPA, number of years of work experience of part-time MBA students, and the part-time student percentage of the school's total business school enrollment.
In order for a part-time program to be eligible for a ranking, the school needs to be AACSB accredited and have been in the previous year's ranking. This year, 279 schools out of 301 met the criteria and were included in the total ranking. At number 118 of almost 300 schools, the PC MBA Program's ranking is an impressive accomplishment!
To read more about this year's ranking in an article from Providence Business News, click here.
For this year's full ranking of part-time MBA programs and more information on ranking methodology, click here.