5 Resume Spring Cleaning Tips
After what seemed like a long winter, spring is finally almost here! With the spring comes a desire to do some spring cleaning around the house or dorm. The days are getting longer, the sun a little warmer, and there's suddenly an opportunity for all of us to be better. Have you ever considered resume spring cleaning? Here are 5 simple ways you can "clean up" your resume, just in time for the Spring Career Expo on Wednesday, March, 21!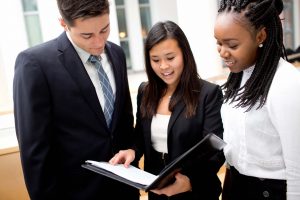 1.) Keep the content current: If you had any new internships this semester, joined any new clubs, or have been promoted to any exec boards, be sure to make sure this is highlighted at the top of your resume!
2.) Make sure your resume looks polished: Be sure to keep your resume organized, even, and polished. This says to potential employers, "I am organized and pay attention to detail" without even having to mention that as a personal quality. Be sure to have your accomplishments in bold type, as well as your name, in bold, slightly larger font at the very top of the page. When your name is subtly enlarged and bolded, there is a higher chance for a potential employer to remember you.
3.) Keep it concise: Still have a few activities from high school that are no longer important or truly highlight your strengths? Consider getting rid of them to make more room for your more recent collegiate accomplishments.  This will keep your resume easy to read and increase the chances that employers will read it to the very end.
4.) Use action words: Action words used at the beginning of each sentence when describing an activity or internship have more of an impact on the reader. Therefore, swap out passive phrases like "handled" or "responsible for" with active phrases like "lead, launched, built, directed, generated, and managed."
5.) Be specific: When describing your experiences, be sure to focus on specific, tangible results. For example, instead of saying "played a role in increasing the company's sales" say "created weekly analytical reports that contributed to a 10% increase in sales." Being specific about your experiences holds more credibility in the minds of potential employers.
Follow these tips and tricks and you'll be sure to have a spring that's "blooming" with opportunities! Want a second opinion on your resume? Schedule an appointment at Slavin 108 or stop by Resumania in 64 Hall this Tuesday, March 20 from 10 a.m.-12 p.m. or 1-7 p.m. to have your resume reviewed by successful professionals. Once your resume is all set, attend the Career Expo on Wednesday, March 21 from 2:30 p.m.-5 p.m. and confidently present your newly updated resume to potential employers that interest you!