PCSB on Netflix: Kirk Bozigian in The Toys that Made Us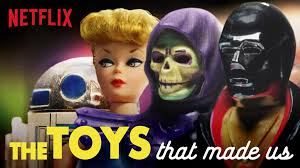 Think it would be cool to develop a toy that would become one of the best known of all time? Ask Kirk Bozigian, marketing professor at the PCSB, and check out Season 1, Episode 4 of the Netflix series The Toys that Made Us to see him featured! He had a monumental role in the development of G.I. Joe as a former product manager and former Vice President of Boys Toys at Hasbro. Kirk, a PC grad himself, has had a fantastic career in marketing, advertising, and product development. He worked on the G.I. Joe brand before its launch in 1982, serving on and off through 1994, the last year a real American hero was on shelves. He even has an action figure modeled of him! Want to learn more about Kirk's career? Keep reading!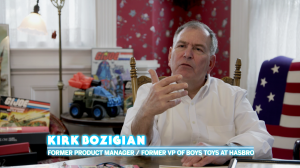 1.)  Can you tell us a little bit about your career?
"I never thought I would have a marketing career. I graduated Providence College with a degree in Humanities. After graduating PC I went to Syracuse University and earned my masters degree in Television-Radio advertising. I then started a career in advertising as a copywriter and worked as an advertising manager at Taco Inc. in Cranston, RI. There, I handled all corporate communications, trade shows, catalogues, brochures, press releases and instruction sheets. I then ended up working at Hasbro as a result of a classified ad in the newspaper looking for a copywriter. I then started working at Hasbro in their packaging department writing all the packages, catalogues, press releases, instruction sheets, and sales promotion material, and toy fair scripts for presenters. To me, marketing was the area of the business that had the most impact in growing the business. In the toy business, new ideas are so important and a steady flow of new ideas are needed. I found it a fascinating new opportunity, so I was able to work my way into the marketing department as a product manager. I rose through the ranks of product management to Vice President of Boys Toys Marketing."
2.) What did you enjoy most about working at Hasbro and your influence in the creation of G.I. Joe?
"The thing I liked most about most about working at Hasbro was that no day was ever the same. I went to work every day looking forward to the challenges of the day and never had a bad day at work. My career there was enjoyable, challenging, lots of work, but also fun. I always try to tell students you always want to work for a company where you feel like you are making an impact but also work for a company where you feel as though you're working with people you're friends with."
3.)   What is some advice that you would give to marketing students with an interest in product development?
"I always tell students that if you're going to be a marketing major and want to pursue a career in marketing, embrace everything there is about the world around you. That means understand what marketing is; a business's way of trying to sell things. Try to understand and observe how retail works. Why are products placed in retail stores where they are, what retail and consumer advertising of all forms is like, analyze the Sunday newspaper, and understand all the inserts and why do businesses spend so much money on them. Learn everything you can about how companies are trying to sell you things. The future of advertising and marketing is going to be wildly different in 5 years compared to where  it is today, keep up with the changes. For example, during the Super Bowl, the US Marine Corps ran a recruitment ad. The ad didn't appear on the network, it appeared on mobile media where the cost to advertise was much less. They knew that young people weren't necessarily going to be watching the game on television, rather watching it on their smartphones and tablets. They therefore saved a lot of money not spending the 5 million dollars it would have cost them to advertise on network TV! Someone in the their Ad agency made that recommendation to the Marine Corps, considering where they could best reach their target audience and save media dollars. Your generation of millenials is going to be creating new ways of developing an advertising and marketing programs."
4.)   Who is your role model in life and why?
"My parents are my role models in life. My mother encouraged me to be creative and use my imagination. My father has taught me so much about life and the importance of work,and the fact that you need to give 110% at whatever you do. He is 88 years old and he still works. He owns his own convenience store that he still opens every single day. Family is important to him, he put a lot of effort into me getting a degree from PC, and taught me everything I learned about retailing and packaging. I learned how little stores need to promote themselves, as well as how companies promote to little stores. I grew up in the world of marketing without even knowing it."
5.)   Do you believe there is anything that sets PC business students apart from students from other schools? What is it and why?
"What sets you apart is DWC. That course of study makes you better thinkers, writers, and better at understanding the world around you. Good marketing people have to be generalists, taking lots of information and know how to use it. After completing DWC, my daughter said, "now I finally know things." That program is supposed to make you learn things that other students around the country don't experience. In marketing, if you're asked to selected the best package or product design, you look back at an art or DWC course and you are able to make an informed choice."
6.) Would you mind telling us a little bit more about G.I. Joe?
"G.I. Joe was a brand that my manager and I worked on for about 2 and a half years before we introduced it. Every time we proposed doing it, we were told no. My boss Bob Rupis never took no for an answer, which taught me that sometimes when your CEO tells you no he really means yes. Stephen Hassenfeld, Hasbro CEO was looking for us to come up with an exciting and unique new way of re-introducing G.I. Joe. The creation of G.I. Joe helped me learn so much about marketing. We had to create and market the line of Toys. We were the first company to advertise a comic book about G.I. Joe on television. We needed the comic book to attract consumers. I had the opportunity to work with people at Marvel comics, I had to approve all of the scripts and comic book art, which led me to being the coordinator of the G.I. Joe TV series. My job was to read and edit the TV scripts and approve all the story boards. We created a fan club where we interacted with boys who joined the fan club with promotions that went to them talking about new product. When you bought a product and opened it not only did you get the toy but you got a catalogue of what was coming. We built a direct marketing business from scratch where we sold boys old inventory. We did a series of live action commercials where we changed the whole look of G.I. Joe. These live action commercials turned around a brand that was slowly declining to a brand that was exciting again. I was an actor in one of those commercials. We were pioneering animation tied to a toy line."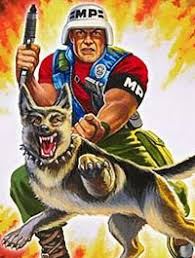 Kirk Bozigian is a great example of a Friar who utilized his Providence College education in the best way. His success shows us the fact that our career path is not limited by our majors, and that our core curriculum gives us the advantage of a deeper sense of emotional and creative intelligence, as well as critical thinking skills. Kirk shows us that with enough imagination, ambition, and open-mindedness, we too can be heroes in our own careers. Maybe not all of us are battling at the front line or deep sea diving in a vast ocean like our friend G.I. Joe, but we sure can make a positive impact if we follow Kirk's footsteps.