Internship Spotlight: Bridget White '18
As a whole Providence College has no shortage of exceptional students, which is why the PCSB introduced the Internship Spotlight series. It is within this series that our students are given the chance to recount some of the aspects of their impressive internship experiences. From companies like L'Oreal to RXR Realty, the students of the PCSB transition from classroom to real world by taking what they've learned and applying it to their delegated roles. This week, we are excited to introduce senior Bridget White who spent the summer as an intern as a Future Leaders Program intern at Amica Insurance!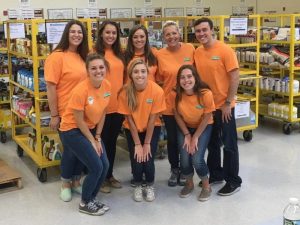 Q: What is your major/minor? 
I am a Finance major.
Q: What was an average day as an Amica intern like? 
I actually worked with a team of other interns. We would come in every morning and meet with our bosses, then we would go to different information sessions with successful Amica executives. We also had the opportunity to visit Amica branches and call centers. It was definitely a learning experience for all of us.
Q: Do you feel this opportunity helped prepare you for a career in Finance?
Absolutely! Like most, I didn't think insurance could be exciting, but this internship really opened my eyes to what I could do in this field. As an intern, you are considered for a full-time position in the Future Leaders Program. This summer, I also I had the opportunity to work as an ambassador on PC's campus, helping Amica make their brand known to college students in the best way. I worked with Amica and Cate Latz '13, '17G to create the Amica in Friartown event on Wednesday, 10/11. It gives PC students the ability to learn about Amica and all their employment possibilities while staying on campus. It should be a really cool event!
To reserve a space for this event, PC students can sign up on eFriars.