I Want Your Job: Kelly Schneider '14
The Providence College School of Business is excited to announce our highly anticipated "I Want Your Job" series. With such a prolific alumni network available to our students, we wanted to create a platform where we can showcase some of the cool and innovative positions held by the Business School's alumni. This week we would like to introduce Kelly Schneider, a 2014 Providence College graduate.
___
My name is Kelly Schneider, and I graduated from PC in 2014 (go Friars!) I currently work as a Junior Copywriter at Rue La La, a Boston-based fashion company. I also run my own fashion blog, Diamonds for Dimes. I started my blog after I graduated as an outlet to share my personal style and tips for girls shopping on the post-grad budget. Now my blog's Instagram (@diamondsfordimes) has over 26,000 followers, and I've partnered with several different brands including Forever 21, Urban Outfitters, and American Eagle. It's really becoming a mini business!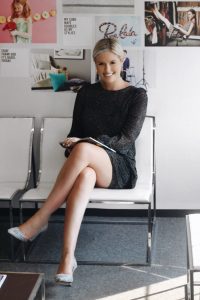 Q: What was your major at PC and what types of internships did you do?
I was a marketing major at PC, with a minor in graphic design. I was fortunate enough to land an internship with Alex and Ani in the digital strategy department. I really fell in love with content marketing during my time there and continued working at Alex and Ani after college.
Q: What was the best thing you did as an undergrad to help you get to where you are?
When I entered PC as a freshman, I knew one thing and one thing only—I wanted to pursue a career in fashion. I was shocked when I found out that there were no fashion-related clubs on campus. My best friend and I set out to start our own. This venture lead to PC Lifestyle and Fashion, an online blog. It was an immediate success, and the fact that we took the initiative to start something from scratch was recognized by our future employers.
Q: How did you ultimately land your current job and how did you stand out in the interview process?
At the time, I was working in content marketing at Alex and Ani (a job that was very difficult to leave) but decided I wanted to move to Boston. I always prepare for an interview by printing out a portfolio of all my work, studying the company's business development, and creating a presentation on ideas that I think the brand could implement into their digital strategy. Going the extra mile not only shows a potential employer that you know your stuff but also that you truly care about working for the company.
Q: Can you explain what a Jr. Copywriter does and what a typical day looks like for you at Rue La La?
It's hard to put into a few words, but I'll try my best! A Junior Copywriter at Rue La La basically handles any creative writing you see on site, in the blog, or in emails. During the day, I'm working on a variety of different writing projects which I send to my editor for feedback and approval. It's a fast-paced environment, so we're always juggling meetings and a number of different projects.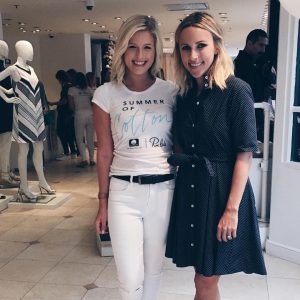 Q: Tells us about your fashion blog, Diamonds for Dimes—how you got the idea for it, how you started it and built your brand and how this fits in to your overall career goals?
It really fascinated me that so many women were making a career out of blogging. From an outside perspective, it seemed like their lives consisted of shopping, Instagram, and getting paid for it (I can tell you now that it's a lot more work than that). I was confident in my knowledge of social media marketing and decided to just go for it. It's my dream to eventually blog full-time, and I knew I had to start somewhere. It sounds cheesy, but I cannot stress the importance of just jumping into that one thing "you always wanted to do" – you'll thank yourself later. My blog is a lot less glamorous than it appears – I can't remember the last weekend where I didn't roll out of bed to shoot outfits, and most weekdays I leave the office and go home to work on my blog. That being said, the hard work has been well worth it. I've successfully built a brand, a group of loyal followers, and strong brand relationships, which is something I'm proud of. Since I am pursuing a career in content marketing and writing, my blog really demonstrates my strength in those areas.
Q: Knowing what you know now, what advice would you offer PCSB students interested in pursuing a career similar to yours?
My best piece of advice is to find your niche and build a resume around it. By my junior year, I knew I wanted to pursue a career in content marketing in the fashion industry, and I really built my resume around that goal. Creating PC Lifestyle and Fashion and running my own fashion blog has really helped me stand out in that space.