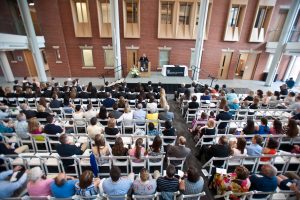 The Providence College School of Business recognized the accomplishments of students, faculty, and staff during the PCSB's Celebration of Academic Excellence on Friday, May 19. The ceremony, held in the Palmisano Family Atrium, awarded 33 students and faculty and honored 38 graduate students with their MBA hoods in the company of the PCSB community as well as family and friends.
Nancy Wiser '89, Executive Vice President & Chief Operating Officer for Wells Fargo Funds Management, LLC, delivered this year's keynote address. Wiser has worked in the investment industry since 1989, and she currently serves on the PCSB's Business Advisory Council as well as the Board of Overseers at the College.
Congratulations to all those listed below who were recognized by the PCSB for their academic achievements!
Faculty & Staff Awards
Dean's Summer Research Fellowship Award
Jonathan E. Jackson Jr., Ph.D.
Ronald L. Jelinek, Ph.D.
Excellence in Research Award
Stephen J. Perreault, Ph.D.
Arati Srinivasan, D.B.A.
Greene Family Award for Teaching Excellence
Jeffrey E. Kotz, M.S.
Deirdre G. Snyder, Ph.D.
Outstanding MBA Faculty Award
Jonathan E. Jackson Jr., Ph.D.
Faculty Mentor Award
M. Cary Collins, Ph.D.
Outstanding Service Award
Carolyn WB Duane '14G, M.B.A.
Teaching Innovation Award
Stephen J. Perreault, Ph.D.
Undergraduate Student Achievement Acknowledgements
Undergraduate Excellence Awards
John J. Gula '59 Award
Quan The Vu
Highest in Concentration Awards
Nicholas G. Redeker, Accountancy
Brian Thomas Bendernagel, Finance
Ryan Timothy Carpenter, Finance
Emily Noelle Smolinsky, Management
Gabrielle Shkreli, Marketing
Michael Samuel Gilmor, Business Studies Program
Department Achievement Awards
Accountancy
Rhode Island Society of Certified Public Accountants Award
Caroline Patricia Haddad
The Gustave C. and Rita A. Cote Business Accounting Award
Patrick Liam Curley
Finance
Santander Award
Duy Hoang Doan
Management
The Robert J. Auclair Management Entrepreneurship Award
Nicholas James Hunsaker
The Mary Politelli Award for Outstanding Achievement in Management
Emily Noelle Smolinsky
Marketing
Excellence in Marketing Award
Connor Wade Altier
Benjamin Family Social Media Fellowship Program
Sarah B. Alhouti, Ph.D., Founding Faculty Director
Lauren Elizabeth Brodeur '17
Casey Lynn Clark '17
Frank Dominick Congiusta '17
Evan Charles Daigle '17
Caroline Rocha Lima '18
MBA Student Achievement Awards
MBA Academic Achievement Award
Sarah Clausius-Parks
Dejan Vukic
Outstanding MBA Full-time Student Award
Derek Peter Spambanato
Outstanding Working Professional MBA Student Award
Sarah Clausius-Parks
See below for photos from the PCSB's Saturday, May 20 Reception, hosted for the first time this year on the lawn of the Ryan Center!