Marketing Students Rank No. 10 in Nation for AMA Competition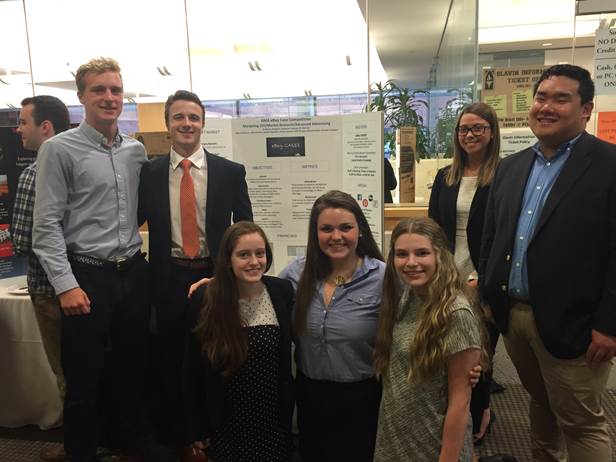 Despite being enrolled in the undergraduate courses of Principles of Marketing, Market Research, and Advanced Advertising, seven Providence College School of Business students received national recognition from the American Marketing Association (AMA) for their proposed integrated marketing plan for eBay. Their response to this year's AMA Collegiate Case Competition, in which they developed a five-year long campaign to attract 235,000 new users each year and primarily target the Millennial Mom, tied their project for 10th place in the country.
Members of the nationally recognized team included the team's senior leader Aliza Anderson '17, James Lesniak '19, John Buckley '20, Sophie Eppolito '20, Maddie Reilly '20, Kelli Pengue '20, and Christian Spadaro '20. All belong to the Providence College chapter of the AMA and competed with 20 other teams from PC, with their project selected to represent the College at the national level.
This year's AMA case, sponsored by eBay, tasked participants with creating a campaign to differentiate the company from competitors and communicate its exceptional online shopping experience, all while targeting the key demographics of Millennials and Generation Z to ensure sustained growth.
The eBay CARES platform the nationally recognized PCSB team developed would reintroduce eBay to consumers as convenient, affordable, reliable, environmental, and social. To support this new campaign, the team conducted an analysis of eBay's brand personality, among other analyses of the macro-environment affecting the brand and supporting survey data.
To learn more about the AMA chapter at the PCSB, visit our Student Clubs & Organizations page.