Ryan Center Dedication and Blessing Signifies New Era for the PCSB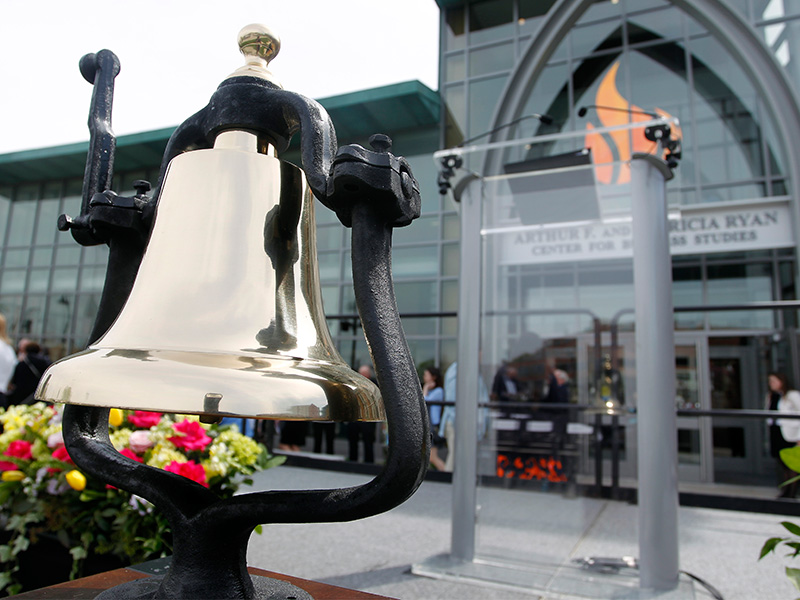 The ring of a brass bell resonating on campus this past Saturday, April 29 marked the official opening of the Arthur F. and Patricia Ryan Center for Business Studies, signaling the Providence College School of Business' entrance into an era in which students and faculty, like the stock market at times, are bullish about the future.
Hundreds of students, faculty, administrators, alumni, and donors, along with their families, gathered on the Ryan Lawn to join the College in dedicating and blessing the new home of the PCSB. The ceremony featured remarks from President Rev. Brian J. Shanley, O.P.; Dean Sylvia Maxfield, Ph.D.; Carol Hartley, Assistant Professor of Accountancy; and Arthur F. Ryan '63, '90Hon., & '89P, a former PC Board of Trustee member, retired chairman and chief executive officer of Prudential Financial, and the building's primary benefactor. The exciting future ahead of the School of Business was noted by all, fitting as the PCSB offers a different kind of business curriculum that educates for a "future based on we."
Following the dedication and blessing, attendees had an opportunity to see first-hand what this means for students and faculty. A series of interactive classroom sessions highlighted the building's standout features, such as the Scanlon Financial Information Resource Lab equipped with a Bloomberg terminal, the state-of-the-art technology and flexible seating in classrooms, and the town hall-like atmosphere of the Palmisano Atrium. Sessions also provided an opportunity for current students and faculty to share experiences in which their business studies and liberal arts curriculum have converged.
Faculty, alumni, and donors were also invited to a celebratory dinner in the Palmisano Atrium that evening. Speakers at the ceremony included Business Advisory Council member Monica Peterson '91, Rich Gotham '86, Maxfield, Fr. Shanley, and Dr. Aurelie Hagstrom '85, Associate Professor of Theology.
Saturday's dedication and blessing ceremony came just a year and a half after the College's Ground Breaking Ceremony, which signified the start of construction on Dore Hall, a former student residence. The construction of the Ryan Center was made possible by not only the pledge of Ryan and his wife Patricia but also the generosity of alumni and corporate donors, whose names adorn the plaques outside many of the building's classrooms.
Don't miss the pictures below, which capture this exciting day for both the PCSB and the College!