Emily Smolinsky '17 Recognized as Unsung Hero for PCSB Leadership Roles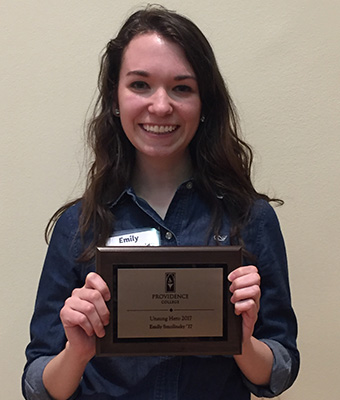 Performing above and beyond in her roles as President of Beta Gamma Sigma, Secretary of the Entrepreneurship Society, a Resident Assistant, and an Admissions Ambassador earned Emily Smolinsky '17 the 2017 Unsung Hero Award at Providence College's 22nd Annual Student Recognition Reception. The Student Recognition Program formally honored student leaders, clubs, and organizations whose contributions enhance both PC and the surrounding community by complementing classroom learning, building community, and aligning with the College's mission at the reception held on Monday, April 24.
A Management major with a double-minor in Computer Science and Finance, Smolinsky received the Unsung Hero Award as an acknowledgement of her level of involvement in student life and her impact on the community.
In the realm of academics, she coordinates events, guest speaker visits, and fundraisers as President of Beta Gamma Sigma, the international business honor society. Her role as an executive board member of the Entrepreneurship Society, which seeks to foster innovative spirit on campus and generate ideas to solve business problems of today and the future, requires a similar involvement in the event planning process.
Apart from her leadership in academic societies, Smolinsky serves as a dedicated resource to both current and prospective students. During her past two years of experience as a Resident Assistant, she has enjoyed forging personal relationships with students, creating a community with her residents, and acting as a resource in times of need. Additionally, as an Admissions Ambassador, she hosts prospective students for the Day in Friartown program, speaks at information sessions, and fields questions from students and families before campus tours.
The PCSB extends its congratulations to Emily!