Hard work pays off! On Wednesday, April 26, the 8th Annual Celebration of Student Scholarship and Creativity commenced in the Slavin Center. The celebration consisted of over 200 students (96 projects), all nominated by faculty from a wide range of academic disciplines. These students, dispersed around '64 Hall and the Slavin "fishbowl," prepared posters, digital, and other types of presentations to showcase their innovative research and creative work they produced throughout the academic year.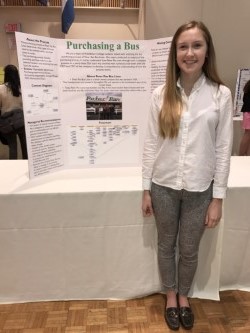 The celebration is also an important feature of the College's Strategic Plan. This allows more students to engagement is a critical step in the College's effort to enhance academic excellence by immersing students deeply in their studies through expanded experimental research, study, service opportunities, and by recognizing publicly students' best scholarly and creative work.
The students of Providence College School of Business specifically exampled intensive collaboration of their versatile skills in their team projects. The marketing department was represented by the two highest-achieving PC teams that took part in the American Marketing Association Integrated Marketing Plan Competition for eBay, four group research projects from Professor Kevin Newman's Buyer Behavior course, a student-managed marketing website project, and a synopsis of the Benjamin Family Social Media Fellowship, both advised by Professor Sarah Alhouti. These projects ranged from the issues of eBay's current market position and the effects of Snapchat and caffeine on student performance to rebranding Lilly Pulitzer to engage a larger target audience.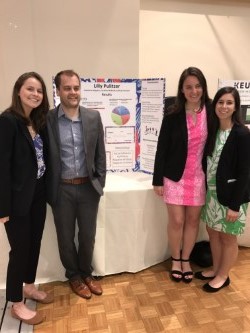 Professor Sonia Gantman of the accounting department nominated her students Lauryn Picknelly '18, Brenna Williams '18, Kellie Roach '17, and Jake Beaton '18 from her Accounting Information Systems class to present their real-time consulting project for the Peter Pan Bus Company. The students studied the company's business processes, identified strengths and weaknesses, and proposed changes after extensive research, including client interviews.
Management major Nicholas Hunsaker '17 was nominated by Professor Michael Kraten of the accounting department for his Integrated Reporting Framework on his own foundation, Honey for Haiti and a teaching case entitled "Save the Blue Frog." This reporting framework is an interdisciplinary model that social entrepreneurs, like Hunsaker, employ to coordinate strategic, operational, and financial services. Hunsaker is a prime example of meshing our own PCSB values into a meaningful entrepreneurial experience.
A handful of business students also portrayed their extensive skills under the advising of Professor Stephen Mecca of the Department of Engineering-Physics-Systems. PCSB students Bridget McFadden '18, Brigid Walshe '19, Nicole Mills '19, and Kerry McIntyre '18, all were involved with different projects under the subject of water, sanitation, and hygiene in rural communities. These projects analyzed the social value of The Sustainable Business Lab (S-Lab), interventions to increase handwashing and health education in rural schools of the developing world, and a rural water audit and cost analysis tool to inform supply options for water systems in developing communities. Alejandro Ayala '17, accounting major and incoming PwC employee, was nominated by Professor Mecca for his compilation of his research for the engineering department from the last three years to create a self-reporting app that tracks the progress of Global Sustainable Aid Project (GSAP) microflush household toilet installations.
Another accounting major, John O'Reilly '19, was also honored for his hard work outside of his major. O'Reilly was nominated by Fr. Nicanor Austriaco, O.P., of the biology and theology departments, for his research entitled "Recovering Natural Law with Evolutionary Psychology? A Thomistic Exploration." O'Reilly explored the possibility that Thomists can avail themselves to insights taken from evolutionary psychology to successfully renew the natural law tradition in the face of the challenges from modernity.
Every year since its induction, The Celebration of Student Scholarship and Creativity not only applauds PC's brilliant minds, but also is a unique opportunity for students to learn, understand, and appreciate the work their fellow classmates have dedicated themselves to. Time and time again, a strong piece of advice shared to students is to always try to surround yourself with successful, motivated people. The talent displayed every year at this event is just one of the many measures to reassure PC students they are surrounded by academic vigor. Congratulations to all Providence College students involved in the celebration, this is only your starting point to a lifetime of continued achievements both in and out of the workplace!