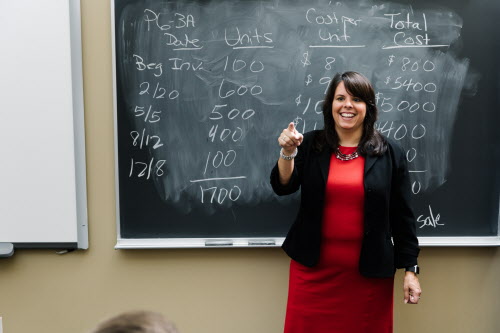 Dr. Christine Earley, professor and department chair of the accountancy department, was recently awarded funding and research assistance by the AICPA Assurance Research Advisory Group (ARAG) for her research project titled, "Lost in Translation? A Comparative Analysis of Auditors' Perceptions of the Firms' Tone at the Top." The project was co-authored by Veena Brown from the University of Wisconsin Milwaukee and Kerri-Ann Sanderson of Bentley University.
Earley has an extensive and versatile education background, starting at the University of Connecticut she received her B.S. in Business Administration with a major in accounting, and then headed to the University of Pittsburgh to receive an M.S. in Psychology with a major in cognitive psychology and a Ph.D. in Business Administration with a major in accountancy.
Before entering the Ph.D. program, Dr. Earley worked as an auditor for KPMG, LLP in the Hartford, Connecticut office. She has also held teaching positions at the University of Connecticut and Bentley University prior to coming to Providence College. She has recently returned to her position at the College after a two-year professional leave of absence to work at KPMG in their Global Services Centre in Montvale, New Jersey.
Earley stated that the project started as an idea that her two co-authors had about how audit firm leaders communicate with their employees. ARAG, a group consisting of professionals and academics who work alongside the American Accounting Association, issued a request for proposals last July, seeking two assurance research projects they could back to generate meaningful and significant insight into their industry. Earley and her co-author, Kerri-Ann Sanderson, worked together with a group of academics on writing a comment letter to the International Auditing and Assurance Standards Board (IAASB) addressing audit firm quality issues, one of which was "tone at the top" in auditing firms. Earley noted, "Tone at the top is very important, since it signals the audit firm's commitment to conducting high quality audit work."
Soon after contacting the IAASB, Sanderson and Brown reached out to Earley while she was working for KPMG last year, to develop questions about how firms communicate their tone at the top to lower level employees and whether the messages were being received as intended. "The project requires us to interview and survey both firm leaders as well as less experienced firm employees, so we needed "buy in" from a large number of firms in order to be able to conduct the research effectively. Luckily, the AICPA was starting a research grant program and they have multiple firm participants who are willing to provide data to support the project," stated Earley. As announced in the beginning of February, Earley and her co-authors project was chosen to receive the research grant, allowing the women to begin their work.
In the past, she has conducted interview and survey studies regarding how junior level auditors learn the "craft of auditing" and develop as professionals. In addition, she has conducted ethics-based research with Dr. Patrick Kelly from the PC Accountancy Department, examining the culture issues of the Arthur Andersen case. "Some may not find audit methodology and standard setting all that interesting, but it is fascinating to me!"
Earley also noted that the best take-away from her research projects is knowing that practicing auditors and regulators find her work to be informative to what they do. She stated, "Accounting researchers often feel like what they do is just an "ivory tower" academic exercise, and their papers are only useful to other academics within their own sub disciplines. However, I have always tried to conduct research that is of practical relevance." Dr. Earley can attest to the power of research, as she brought a research perspective of (not just her own, but others' research as well) to the firm's development of their audit methodology, and saw directly how research can impact practice. Dr. Christine Earley currently lives in North Smithfield, Rhode Island with her husband and two daughters (one of whom is PC Class of 2017), as well as one dog and a cat. On behalf of all of us at PCSB, we thank Dr. Earley for her commitment to enhancing the Accountancy realm in the classroom and in real time.
Find out more about Christine here.
Read more from the Meet PCSB series here.