How Three PC Students Received an Inside Glimpse of Nasdaq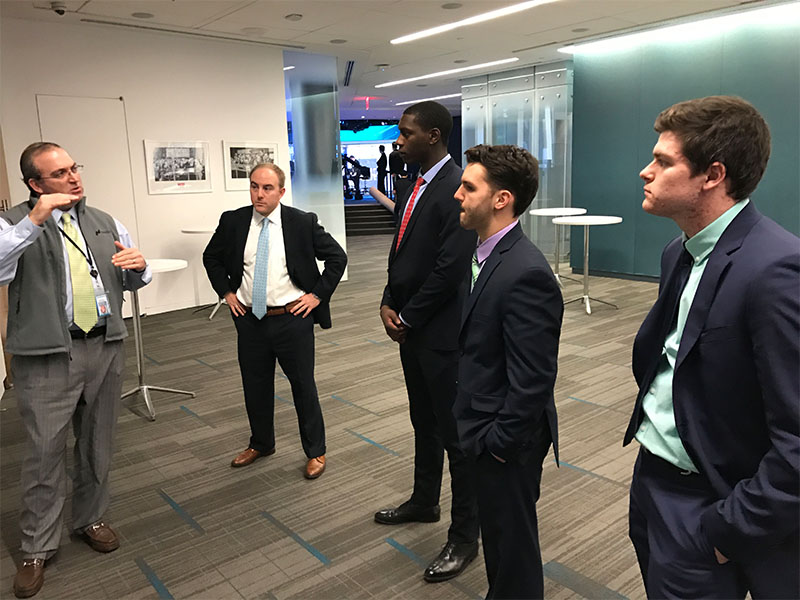 For Providence College School of Business students, leveraging the services offered by the Center for Career Education & Professional Development during one's undergraduate studies can provide advance insight and exposure to a particular industry. That's what happened for Jordan Brydie '18, Dan Centauro '19, and Nick Przekurat '17, all of whom were recently selected to visit Nasdaq as part of the Winter Shadowing Program.
Zak Harvey '16, who joined Nasdaq's Listing Team this past June, hosted the shadow day for Brydie, Centauro, and Przekurat. Having participated in the Winter Shadowing Program himself and finding it beneficial in his career search, Harvey contacted Stacey Moulton, Associate Director at the Center for Career Education & Professional Development, looking to return the experience to three undergraduate PC students.
Harvey, along with Kevin O'Neill '09, Director in Relationship Management at Nasdaq, scheduled an afternoon designed to give the current PC students a better understanding of the company and provide them with a glimpse of its day-to-day operations. Brydie, Centaur, and Przekurat were afforded the opportunity to sit in a board room, learn about Nasdaq's business units, speak with Nasdaq's Market Intelligence Desk (MID), and even attend a "Trading 101" session.
Activity at the Closing Bell was bustling that day, with Melissa Lee, host of CNBC's Fast Money, ringing the bell in celebration of the weeknight program's tenth anniversary. The three PC students and two PC alumni also had their turn at the Closing Bell, as pictured below!