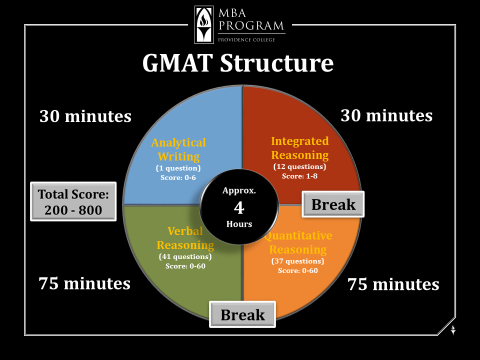 For many candidates considering the Providence College MBA Program*, sitting for and submitting score reports from the Graduate Management Admission Test (GMAT) are required application procedures. The three-hour and thirty-minute exam assesses students' analytical writing, integrated reasoning, quantitative reasoning, and verbal reasoning skills. A candidate's scores in each area serve as indicators of his or her potential future performance in managerial job positions.
While studying for the GMAT can feel like an exercise in rote memorization of algebra, calculus, and grammar, the Poets & Quants article "Why Business School Requires the GMAT" suggests that the test simulates the demands placed on managers in the real world. In fact, the article touts the exam for its mirroring of reality, in which the "intellectual demands of being a manager" are "encapsulated in the experience of taking the GMAT."
According to the article, the quantitative and verbal portions of the GMAT test more than just the fundamental principles of mathematics or grammar. In addition, they evaluate candidates' organization, precision, critical thinking, and even ability to make decisions with limited information.
Given the valuable insight that GMAT score reports provide, the PC MBA Program considers applicants' overall score and sub-scores as part of its holistic application review process. The Program has no minimum GMAT score requirement, however scores from the MBA 2015-2016 Class Profile averaged 530.
The article recognizes that preparing for the GMAT can be a grueling process and reassures those preparing for the test that achieving excellence is possible. The path to excellence can at times be "rarely straight, rarely smooth, rarely lacking in soul-searching challenges," but such challenges can be overcome with the "deep commitment to face any challenge with the heart of a lion."
To learn more about the benefits of sitting for the GMAT, read the full article here.
*Please note that some applicants may be eligible to waive the GMAT score requirement for admission consideration. Prospective students who are eligible must meet at least one of the six criteria listed on our website.