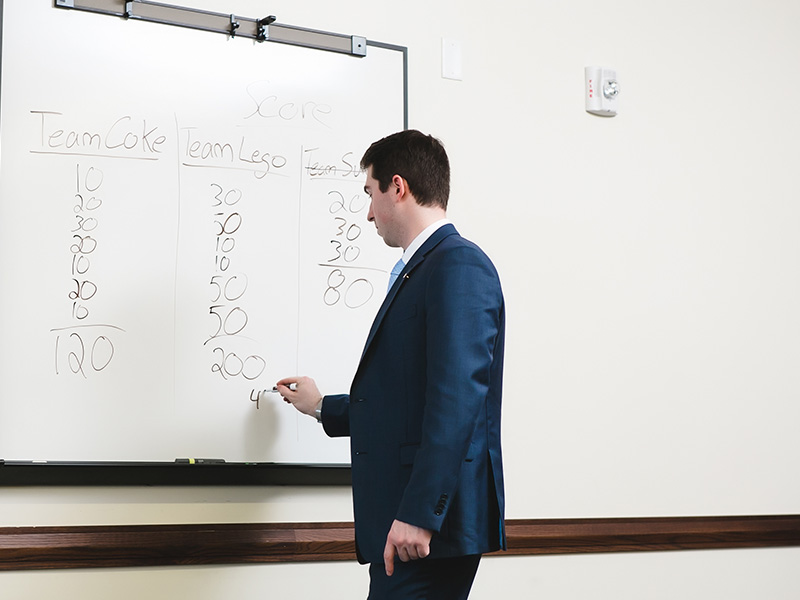 The semester-long project presented by MBA students during finals week in Dr. Patrick Kelly's Accounting for Government and Non-Profit Organizations class served not only as a culmination of a semester's worth of learning but also as an appropriate segue into the New Year. Delivered after the recent presidential campaigns and election, the project took a topic of continued public interest, the federal budget deficit, and challenged students to develop solutions to reduce the deficit in a learning environment characteristic of the MBA Program.
As part of their final project, students were required to engage in hands-on learning, reviewing federal government budget documents and financial statements. After conducting outside research, students formulated viable recommendations regarding government or agency program revenues and spending, critically evaluating both the financial and non-financial impact of their recommendations.
To assist students in developing a comprehensive analysis of the federal budget deficit, Dr. Kelly leveraged the MBA Program's small class sizes to facilitate learning. Students organized into groups of three to five members, focusing on different areas of the federal budget such as individual income taxes, corporate income taxes, Social Security, Medicare and Medicaid, health care, Department of Defense, and discretionary spending. While the project allowed students to collaborate in small groups, it also required the class to organize and deliver a cohesive, class-wide PowerPoint presentation outlining the class' collective recommendations.
This experiential and collaborative learning opportunity allowed students to apply their knowledge from the semester and address a problem – the federal budget deficit – that the nation will continue to discuss in the New Year following the inauguration of President-elect Donald Trump in January.