Faculty Spotlight: Janet Letourneau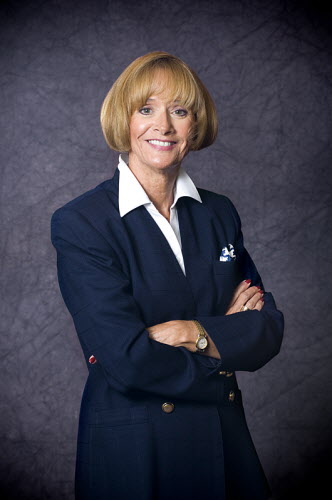 Janet Letourneau is a practitioner faculty in the Department of marketing here at Providence College. She is known as being tough, strict on her guidelines, and willing to go the extra mile to help a student succeed. As Matt Markella '18 describes, "I think she's very engaging and has the best intentions for her students." Her rules for success are "start early, read directions, follow instructions, and ask questions." Letourneau is known for her promotional strategy course, a requirement for all marketing majors. Promotion, one of the four marketing principles, is the focus of this course, and teams in each section must complete a semester project on an assigned brand. It is hard, extensive, and incredibly rewarding once the projects are submitted.
This semester, two of her sections focused on Acadia National Park, while the 10:30 a.m. section had a unique opportunity. Fr. Ambrose Little, O.P., reached out to Letourneau for help as he needed a promotional strategy for the Angelic Warfare Confraternity, an organization he directs for the New England region. The class had an amazing challenge to create an IMC plan that would potentially be applied outside the classroom. This provided students the opportunity to learn while they apply the concepts to a requested project. Letourneau always emphasizes the importance of quality, so the pressure was on for the students. After all, this was for one of our very own!
Throughout the semester, Letourneau stressed to the class that "this is for Fr. Little…we will provide the best." Letourneau's pride in her professional work took over the class and in turn, the students took on the same attitude, work ethic, and committed to creating a plan that would be helpful to Fr. Little for the growth of his organization. Through coaching sessions with each team, lectures on how to create each page effectively, assorted team applications, documentaries, essays, and a well-thought out set of guidelines, Letourneau drove the class to do better work than they ever thought they were capable of. One of her students, Sarah Magarelli '18 says, "Her class was intense and [a] ton of work, but in the end it was rewarding to see that I was capable of doing all of this. Janet is the best."
Another student in the class, Liz Walker '18, put it best when she said, "Janet provides real world insight about a variety of marketing tactics." While the class focused on the plan for Fr. Little, Letourneau also stressed the importance of personal growth and ethics; topics that can really separate a good business school from a great business school. Alex Lawrence '17 stated that Letourneau "reminds her students every day we're more than our resumes." In today's highly competitive world, that reminder is comforting to students who are scrambling with job and internship applications. There's always a point and lesson in each of her classes that also transcends into the honest feedback given to submitted student work. Whether or not marketing is your discipline, everything that is shared in class can be applied to the real world! This is what keeps the class so engaging and makes Letourneau one of the most beloved professors within the business school.
The project for Fr. Little is currently in its final stages. When you walk into the class and ask the students what they have been working on, there is a strong sense of pride; a pride that can only be described through the idea of our Friar Family. This marketing class has opened the eyes of many students as to the true meaning of the family we are all so lucky to be a part of at Providence College. By helping out a fellow Friar, Letourneau embodies the meaning of what it really means to be a member of this community; she is proof that the help of one professor can make all the difference.