Robert Dipietri '16MBA Competes in Venture Capital Competition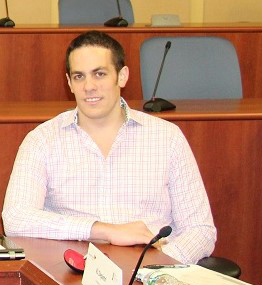 The Providence College School of Business extends its congratulations to Robert (RJ) Dipietri '16MBA, who was recently selected by Boston University's Questrom School of Business to participate in a locally-hosted Venture Capital Investment Competition (VCIC) on Friday, October 28.
The global VCIC, which launched in 1998 to offer MBA students the opportunity to learn more about venture funding, simulates the venture capital investment process by placing students in the role of venture capitalists. During the competition, entrepreneurs present business plans to the competitors, who then devise an investment strategy and pitch it to judges acting in the capacity of partners.
In the local competition held at Boston University, RJ and 15 other competitors were split into three teams. On October 26, each team received a business plan to consider, with presentations of their investment strategy made on October 28. While one winner was selected following the local competition, four of the 16 competitors along with one alternate team member were selected to represent Boston University at the national competition in February.
RJ was the only student from a university other than Boston University competing in the local competition.
"I wanted to get out of my comfort zone and challenge the boundaries of my knowledge in order to learn new things," he said. "I also enjoy competing, and wanted a chance to show people the kind of program that the PCSB is building as well as give us some name recognition around Questrom."
Read more about the VCIC here.