PC Celebrates 100 Years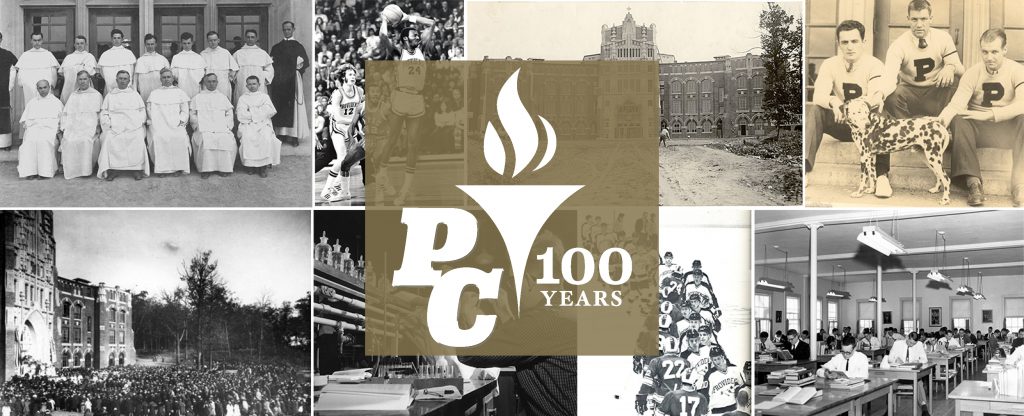 A centennial numerically marks a 100-year anniversary, but year-round centennial celebrations at Providence College suggest that it symbolizes much more than that.
This academic year, PC celebrates not only 100 years since its incorporation but also 100 years of dedication to its mission. Founded in 1917, Providence College committed itself to offering higher education, fostering community, and serving others within the Catholic, Dominican, and liberal arts tradition, a commitment which has withstood the test of time.
To celebrate what these 100 years represent to the College, centennial programming is scheduled throughout the year. Upcoming programs include guest speakers and lecturers, forums, conferences, symposiums, and both on- and off-campus gatherings.
This year's St. Dominic Weekend, held September 30 to October 1, featured two full days of such programming. Academic sessions, alumni receptions, and the concluding "Celebration of the Century" event all reflected back on the past and looked forward to the College's next 100 years.
Here at the School of Business, we hosted similar celebrations during St. Dominic Weekend. While the groundbreaking of the first Business Administration Department building, Antoninus and Moore Hall, occurred in 1946, we celebrated the campus transformations occurring during this centennial year by offering alumni building tours of the new Arthur and Patricia Ryan Center for Business Studies. Additionally, we welcomed 18 of our Business Advisory Council members to campus to share with them recent PCSB news as well as discuss the future of the School of Business.