Internship Spotlight: Molly Giudice '18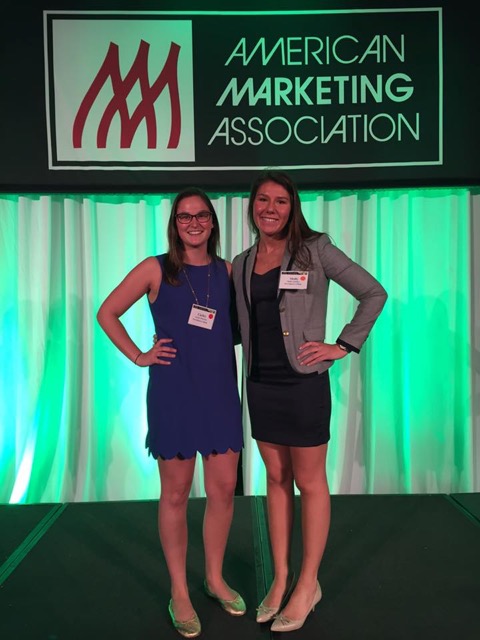 "Working for the Sixers was the best experience I have ever had. The lessons I learned and the memories I made will stay with me forever." –Molly Giudice '18
Molly Giudice '18 from Westerly, Rhode Island has had a wide variety of internship experience within the marketing world in her three years at Providence College. As Vice President of the American Marketing Association (AMA) chapter here at PC, marketing chair for her class' Senior Ring Weekend Core, and a former campus ambassador for the jewelry company eff.y.bee, Giudice has quickly created a solid foundation for future employment. However, Giudice has always been determined to dive into sports marketing, the field in which she wishes to pursue a career in. Going into this summer, she applied for several internships with different sports teams, but often never even heard back. Giudice became discouraged, but did not let that disappointment stop her.
"After attending the AMA National Conference in New Orleans and meeting a Sixers Sales Manager, I learned that a gateway into sports is sales," said Giudice. Despite going through an extensive and competitive interview process, she had the honor to be one of the five Summer Sales Interns for the Philadelphia 76er's NBA team. If this internship was not impressive enough, she was also the only one out of her fellow interns to not come from a school's sports management program. As a season ticket holder and a huge fan of the Providence College Men's Basketball Team, this internship was a dream opportunity for her. She is truly a testament to the belief that you have to start at the bottom and build your way up from there.
By living at Villanova University and working for a team that means so much to the city of Philadelphia, Giudice was truly immersed into the culture of the city while learning important aspects of the field she hopes to pursue. During her internship, Giudice not only developed a feel for the Department of Sales but was also introduced to the head of many departments such as group sales, public relations, corporate sponsorship, and of course, marketing. "[This internship] taught me a lot about how marketing is actually integrated into a lot of different job titles," said Giudice.
Updated:
Furthering her experience in sports marketing, Giudice will be a Student Associate at The Madison Square Garden Company in New York, New York, for the summer of 2017. Through networking with her connections she made while interning for the Philadelphia 76er's, Giudice went into the application process with confidence. She says the process consisted of an application, two interviews with the Human Resources Department, and one final interview with a manager at Madison Square Garden.
During this internship, Giudice will get to know each department at Madison Square Garden and will be working directly with their sports entities, such as the New York Knicks, the New York Rangers, and the New York Liberty.
Read more from the Internship Spotlight series here.