PCSB Chapter of Beta Gamma Sigma Qualifies for Highest Honors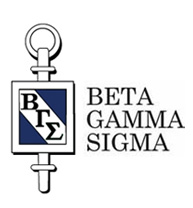 Recently, we received news that the Beta Gamma Sigma Chapter at Providence College qualifies for Highest Honors for the 2015-2016 academic year! This status is indicative of a campus where academic excellence is valued and where the faculty officers of the chapter work diligently to enhance Beta Gamma Sigma's stature on campus.
We look forward to continuing this work in the coming academic year, honoring the "Best in Business."
About Beta Gamma Sigma
Beta Gamma Sigma (BGS) is the premier honor society for institutions which have strived for and achieved accreditation through AACSB International — the Association to Advance Collegiate Schools of Business. Since its founding in 1913, BGS has inducted more than 750,000 outstanding students into membership worldwide. These 750,000 members have served in corporate, government, non-profit, educational, and other management positions at every level of responsibility.
The mission of BGS is to encourage and honor academic achievement in the study of business, to foster personal and professional excellence, and to advance the founding values and principles of the Society — honor and integrity, pursuit of wisdom, and earnestness.
Lifetime membership into BGS is an honor bestowed each year upon the top 10% of the junior undergraduate class and the top 20% of the graduating MBA class in the School of Business.
Click here for more information about BGS.
Click here for the full list of honor societies at Providence College.