Friar Foundations Students Mean Business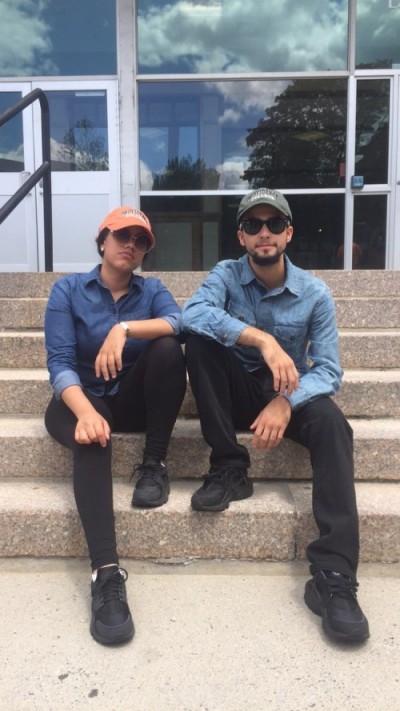 This summer, we were lucky to have two students, Jessica Polanco and Manny Rivas, join us in the PCSB office from the Friar Foundations. Friar Foundations is a summer program aimed at easing the transition from high school to college for approximately 30 incoming Providence College students each year. Participants in the program are normally accepted students who live on campus for five weeks for portions of July and August. During this time, the students complete credit-bearing courses, attend skills-building workshops, and partake in a host of on- and off-campus social and cultural experiences. More information about Friar Foundations can be found here.
Friar Foundations participant/PCSB summer student worker Manny Rivas wrote about his experience:
I knew I wasn't prepared to face all the things college had to offer quite yet. I wasn't ready for the drastic change of scenery considering I was a 'momma's boy' at heart. I then heard of the Friar Foundations program, and I said, "why not?" Sooner or later, I had to break into the new college atmosphere, so why not get to it.
Before even starting the program, I declared my major as a marketing major in the School of Business. I knew that marketing would be the career field for me, as I had great experience in the field from interning at CVS health and helping my uncle sell cars at his small used car dealer. I knew that business is something that I want to do.
When the coordinator of the program, Kaitlyn O'Malley set up summer jobs for students, she put me to work in the School of Business. She did this in order for me to get better acquainted with the faculty and staff, and to get better acquainted with the type of work that helped fuel my desire to study business marketing.
Walking into the Business school in Koffler Hall, I was scared out of my mind. All I had here was my close friend Jessica, who I knew before I even came to Providence College. As I walked in and met my supervisor, Leah Martin, I just kept thinking about all the horrific stories about how cut-throat business could be. As I thought of this, I couldn't help but look at the floor, and I couldn't even look Leah straight in the face as she talked to me. These assumptions and beliefs quickly changed as I met everyone in the Hall.
My mood switched drastically, as everyone was so happy and excited for me. I felt as though I was a celebrity the way everyone asked me questions and cared about me. They gave me assignments to do like helping create blog posts for the PCSB social media pages (like this one you're now reading!).
Let me tell you, my time working in the PCSB was extremely fun, especially with all the people. It felt like a tight knit community, with everyone here from Associate Dean Dr. Horne to Senior Office Assistant Lisa Mildner, and many more. All accepted us as their own: from greeting us to taking the time out of their day to eat lunch with us spoke volumes. These people I met within the School of Business – with all their positive attitudes and genuine care – helped calm my nerves and reassured me that I made a great decision by picking Providence College to study for the next four years.
Thank you for helping to ease my transition from High School to College – you definitely made it a lot easier for me. I can't wait to come back in the fall to take classes and see you all again!