Meet PCSB: Assistant Professor of Marketing Sarah Alhouti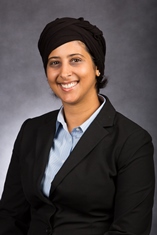 Name: Sarah Alhouti
Title:  Assistant Professor of Marketing
Job description: Teach, Research and Service
Education: Seattle University – Undergraduate; University of Illinois Urbana-Champaign – MBA; University of Alabama – Ph.D.
Years at PC: 1.5
Areas of Expertise: Corporate Social Responsibility, Digital Marketing, Retailing
Classes I've taught at PC: Marketing on the Internet – MKT 340; Principles of Marketing – MKT 205; Marketing Research – MKT 434
Favorite part of my job: Learning! I love to learn. My cousin asked me a couple of months after I obtained my bachelor's degree whether I missed being in school. I told her that I didn't because a couple of months after graduating I had already signed up and joined a class 🙂
My job offers me endless opportunities to learn; which includes conducting research in new and exciting marketing trends, taking courses, the ability to attend a wide range of events on campus, discussions with fellow staff, faculty and students, meeting with alumni and business leaders, and attending conferences. In every class I have taught I have been fortunate to have the opportunity to learn both from my and about my students. The class discussions have been vital in my learning experience and I am very thankful for my students for being involved in such lively discussions and for their willingness to share their own knowledge and experiences with me and their classmates.
Community Service. Community service is really important to me and I love being in an environment that values and appreciates that type of service. The work that nonprofit organizations conduct really makes a difference in people's lives, including mine, and I am glad to be able to do my part. It's great to be able to incorporate some of that in my classroom as well through getting students involved with non-profits and small businesses. The student body is strongly involved in community service, which has allowed me to design classes that not only help students but also allow them to make a difference with their work.
Growth. There is a proverb that says "tell me and I'll forget; show me and I may remember; involve me and I'll understand." I take this philosophy to heart, which has given me the pleasure of being able to witness my students' growth in my classroom. Some of my favorite moments with my students are watching them solve difficult problems in class. They really take the time to resolve an issue through peer discussion, research, and reflection on the material and the problem. By doing these problem solving activities, they have trained themselves to be life-long learners. It's exciting for me to witness this because it gives the students the ability to choose their own learning path that extends beyond the classroom.
Something every marketing student should know: Marketing involves a lot of numbers 🙂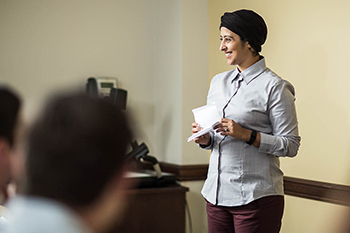 First job out of college: At an art gallery in Pioneer Square in Seattle, called Global Art Venue (unfortunately no longer open). I was tasked to do much of the accounting and administration work. The experience there taught me to gain appreciation for the arts and understand how they are a strong influence in many people's lives.
Interests outside of work: Travelling, hiking, skiing, walking, bugging my husband and cooking.
Surprising fact about me: I am afraid of all types of animals, even the fluffy puppies, especially the fluffy puppies.  What do they hide in all of that fluff?  Yikes!
Read more from the Meet PCSB series here.