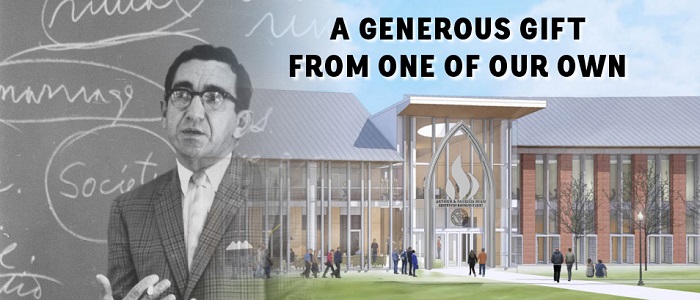 Longtime Providence College accountancy professor Gustave C. Coté '62 Hon. has gifted $500,000 to the School of Business.  The gift is in support of the Arthur & Patricia Ryan Center for Business Studies, which is scheduled to open in early 2017.  Gus, who retired from teaching in 1989, also served as chair of the business administration department during his 35 years at Providence College.  He is remembered fondly as a gifted teacher and mentor here in the School of Business, where he inspired and shaped the lives of countless students.  Beyond his days in the classroom, Gus has continued to support the school and his students with various fundraising contributions over the years.  His most recent gift acknowledges his love for "teaching, accountancy, and the young people he taught along the way."
"Gus Coté was a masterful professor who set a standard — as an engaged, caring, and knowledgeable teacher — that we endeavor to follow to this day," said PCSB Dean Dr. Sylvia Maxfield. "His generous support carries extra meaning for us, because it reflects a lifetime of commitment to Providence College and its students."  In recognition and appreciation of Gus's gift, an accounting/finance laboratory will be named for him and his late wife, Rita, in the new business school.
Read more about Gus Coté and his gift here. 
Find out more about the Arthur & Patricia Ryan Center for Business Studies here. 
UPDATE: Read alumni reactions and comments here.