#PCchat: Twitter Q&A with PCSB Dean Sylvia Maxfield
Do you have questions you've always wanted to ask the Dean of the Business School? Now is your chance! Join Dean Sylvia Maxfield on Wed. Nov. 4 at 8 p.m. for a Q&A session on Twitter! Tweet your questions to @SylviaMaxfield using the hashtag #PCchat.  Follow the chat live as Dean Maxfield discusses topics such as the new PCSB building, ethics in business studies, as well as her own scholarly research.  Be sure to also follow @PCBizSchool and @ProvidenceCol on Twitter!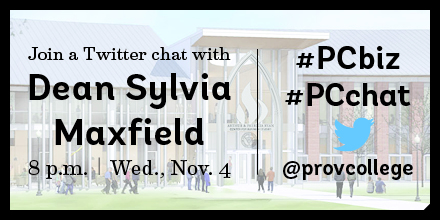 Follow all #PCchat action here.