Meet PCSB: MBA Coordinator Heather Wunschel
Name: Heather Wunschel
Title: MBA Coordinator
Job description: I work with prospective and current MBA students, both just out of college and full-time working professionals. I assist with the application process, advising, and recruitment at graduate and career fairs. In addition to becoming more knowledgeable in the business-school world, my goal in this position is to streamline student processes and become students' reliable go-to resource.
Years at PC: I have been at PC for 8 years; 6 and a half years as an Administrative Assistant in the School of Continuing Education, working with undergraduate adult evening students; 1 and a half years in my current role in the MBA Program.
Education: I received a BA in Liberal Studies from PC in 2013 (as an adult student); I'm currently working on a Master's in Mental Health Counseling, also at PC.
Favorite part of my job: The people I work with; the daily challenges and problem-solving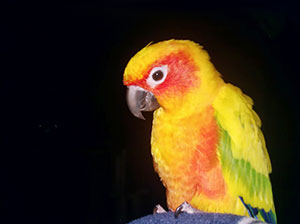 Favorite memories at PC: Being inducted into Alpha Sigma Lambda, which is an honor society for adult learners; speaking at the SCE class of 2014 graduation dinner; the Men's Basketball team winning the Big East Tournament in 2014.
Something every MBA student should know: Accountability does wonders.
How much of a Friars fan are you?: My husband and I have been men's basketball season ticket holders since 2008. We haven't missed a game since, and I have the complete bobble head collection in my office. Favorite player: Weyinmi Efejuku.
Interests outside of work: Being a mommy to our 9 year-old Sun Conure (small parrot), Maxwell; coordinating clothes, shoes and accessories; 80's music and movies; collecting Marilyn Monroe nostalgia; sunsets.
Surprising fact about me: I have a love for antique/classic cars and enjoy going to car shows.