Francisco Oller '16 Shares Journey to Providence College, Overcoming Obstacles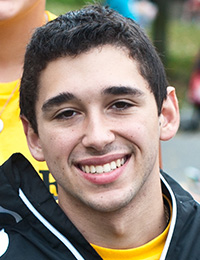 Francisco Oller '16 is a management major who was born in Puerto Rico and lived there until he came to school at Providence College. He was born with a rare genetic disease called Pelizaeus Merzbacher, and he uses a wheelchair.
"When I entered Providence College I was very shy and mostly kept to myself because the transition from high school to college was overwhelming.  I came from a small private school in Puerto Rico of about 250 students and my life was changing academically, socially and culturally.  In addition, I was leaving everything I had known my entire life, including my mom's rice and beans."
Read more from his inspirational blog post about coming to PC and overcoming obstacles here.
More: Listen to Oller's This I Believe RI story called "Coping with Challenges" that was aired in April of 2013.