Art Ryan '63 Shares Secrets to Success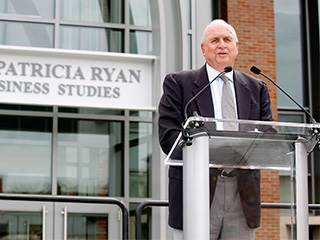 When Art Ryan graduated from PC in 1963 with a degree in mathematics, he didn't know where life would take him — he only knew that the education he received had prepared him well for anything. A half-century later, he reflects on a career that led him on a journey from the Army to the nascent world of computer science to the upper echelons of the country's banking and insurance industries. During that journey, he never lost sight of his roots — or his commitment to doing the right thing.
What's the best career advice you've received?
Coming out of school as a math major, I was very focused on problem-solving and processes, but a colleague made it clear to me that people are really the difference. In business, people need to work together. When you understand their individual interests, you can help them align those interests with the team interests. That helped me better understand people, what motivates people and why they do what they do. That got me out of the machine room and out into the world.
What has been the most important factor in your success?
A lot of luck, but I did take advantage of it.
First, in the Army, I was sent to learn about a new technology called computers. I went on to work for a technology company and by the time I was 30, I had a couple of hundred people working for me. I wanted to use those skills in the "real world," and I was hired by Chase Manhattan Bank. I entered a world desperate for technology help, and I eventually became head of technology and operations for the bank. In the 1980s, banks turned to computers for credit scoring, and ATMs came on the scene. All of this had to do with my abilities, which was incredibly fortuitous. In 1990, I became president of Chase.
I made four major career moves by taking advantage of changes in the marketplace and the opportunities those changes presented. What I encourage young people to do is look for change. Where you see change, there will be opportunity.
How has your PC experience continued to shape your professional life?
There are two things I took away from Providence College other than Jack King making me a halfway decent mathematician.
First, I did embrace the courses I took in philosophy, which reinforced the importance of doing the right thing at all times. Over time, that became my credo for myself and then for others. In business, saying you're going to do the right thing is easy, but when you're faced with different real-life challenges it gets a lot harder.
Second is the whole notion of continuous learning.
You were instrumental in ensuring that Prudential was a good corporate citizen in its home community of Newark. Why do you think it's as important for a business to "do good" as it is to "do well"?
Citizenship is not just for individuals. It applies to everybody. It's central. I fundamentally believe that as a company, you can add a lot of value in your community. In Newark, we helped build the New Jersey Performing Arts Center. In a situation like this, the company becomes another player in the game, along with the government, other corporations, and not-for-profits. I don't think it's something you do because it's nice to do. You have a responsibility. You can bring and add value in ways that others can't.
If a recent graduate asked you for advice on making it in today's ever-changing business world, what would you tell him or her?
Be very good at something. I don't care what it is. You choose it and be good at it. Too many young people try to do too many things to fill out their resumes. When you get to be good at something, you're more willing to take risks moving forward. It gives you the confidence to take on the risks rather than saying "I'm not qualified for this." It doesn't matter — it's the ability to believe you're very good. When you're able to say, "I'm good at that" it gives you the confidence to try something else. I'm not talking about specializing too early, which is why I support a liberal arts education.